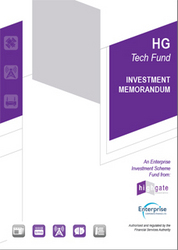 We are delighted to have hit this first target in record time, only one week after the initial launch. The tax benefits of investing in an EIS Fund before the first close date of 4th April are excellent for investors who still want to be involved.
London (PRWeb UK) March 24, 2010
Highgate Associates and Enterprise Corporate Finance announces today that its EIS Fund, the HG Tech Fund has reached the initial minimum funding target in record time. Further investment is anticipated during the final weeks of the tax year by investors looking to maximise their tax benefits.
In addition the Fund announces today its first High Tech company investment, iVoucher, an early stage business that is developing a unique SaaS (Software as a Service) delivered, proprietary SMS technology for the food and beverage industry. iVoucher has a distinctive technology and service proposition that is planned to launch later in Q2 2010 that will enable all bars and restaurants to effectively communicate with their customers and build one to one relationships that drive greater revenue and improved customer experience.
The HG Tech Fund offers a different approach to most EIS funds and will invest 100% of the funds raised into a portfolio of companies ensuring that investors receive the full benefit of their initial EIS relief. All money raised in the Fund will be transferred into shares across the portfolio of companies selected for investment by the Fund managers. The HG Tech Fund is managed by Technology Industry veterans, a team of entrepreneurs who have been successfully established, grown and exited high tech businesses globally for profit. The businesses receiving investment from the Fund will benefit from this level of expertise to support the achievement of their business plans and forecasts. When the Fund closes at the end of July, the management team aim to achieve a portfolio of between 6 and 8 early stage high tech businesses including iVoucher, selected for investment based on clear acceptance criteria and extensive due diligence.
The initial success of this Fund has been driven by the 'famous 5' EIS tax breaks, as well as the distinctive and clearly attractive approach to fund management fees, which focuses on minimising the cost to investors and maximising the investment into the selected businesses. The Fund managers will not participate in fees from investors until the Fund has delivered a minimum of 6% annualised return.
Mr Andrew Muir, HG Tech Fund Manager says "we are delighted to have hit this first target in record time, only one week after the initial launch. The tax benefits of investing in an EIS Fund before the first close date of 4th April are excellent for investors who still want to be involved. The Fund Memorandum explains the Fund and benefits in detail for those who are interested. "
The HG Tech Fund is still open to sophisticated investors with £10,000 or more to invest in a portfolio of early stage high technology companies and has a first close date of 4th April 2010 and final close of 31st July 2010. This is a medium to long term investment opportunity with a 3-7 year exit strategy.
For further information please contact Andrew Muir on 07785 393583 or amuir(at)hgtechfund(dot)com or visit http://www.hgtechfund.com
Highgate Associates
Highgate Associates was established in 2001 by Andrew Muir and Ken Nelson, each having over 25+ successful years dedicated to starting and building technology companies globally.
Andrew Muir and Ken Nelson co-chair the Fund Investment Committee and work closely with Enterprise in allocating EIS Funds to the investee companies and managing the Fund investments. Highgate's senior Financial Director, Henk Nieuwenhuizen, oversees all investments made by the Fund to ensure proper accounting and disclosures.
http://www.highgateassociates.com
Enterprise Corporate Finance Limited
Enterprise Corporate Finance Limited is an investment adviser specialising in and predominantly working with unquoted investments. Its principal, Susan Phillips, has a background in investment management and for 17 years has specialised in financing, advising and mentoring unquoted companies across a wide range of industries. Susan is a recognised leader in the EIS community and acts as Director General of the EIS Association. http://www.enterprisecf.com
Authorised and Regulated by the Financial Services Authority
Enterprise Corporate Finance Limited is authorised and regulated by the Financial Services Authority, 25 The North Colonnade, Canary Wharf, London E14 5HS. This information is communicated on the basis that participants in investments managed or advised by Enterprise Corporate Finance Limited should be sufficiently expert to understand the risks involved and understand that they may not be covered by the rules and regulations made for the protection of investors in the UK. Past performance may not necessarily be repeated and is no guarantee or projection of future results. This is not an invitation to invest. Any investment must be made on the application form and on the terms set out in the Investment Memorandum dated March 2010.
Your attention is drawn to the risk factors on page 21. Unquoted investments can be difficult to sell and it can be difficult to obtain accurate information as to their worth or risk profile. This communication is provided for informational purposes only and should not be construed as an invitation or offer to buy or sell any investments. No recommendation is made, positive or otherwise, regarding individual investments. Any decision to invest should be made only on the basis of the relevant documentation for each investment. No contracts may be concluded on behalf of Enterprise Corporate Finance Limited by means of email communications. This information in this document and any attachments is confidential and may be legally privileged. It is intended only for the individual or entity named.
###