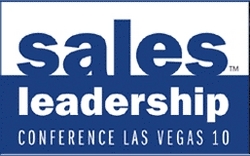 "It is time for sales management executives to embrace agility and flexibility. These are times of constant transition. If we remain rigid and pursue rigid goals, we will become victims of change."
Fredricksburg, VA (PRWEB) March 22, 2010
Gerhard Gschwandtner, publisher of Selling Power magazine, today announced agenda highlights for the Sales Leadership Conference to take place on Monday, April 19, 2010 at the Mandarin Oriental Hotel in Las Vegas.
The Sales Leadership Conference offers sales management leaders a uniquely collaborative and dynamic environment where they will learn to identify and implement management techniques that improve sales performance, sharpen executive leadership skills, and produce results in a tough economy.
Kodak CMO Jeffrey Hayzlett will share the story of how Kodak has worked to reposition its iconic brand for success in the new millennium after missing the transition into the digital age. Hayzlett encourages sales management leaders to leverage social media as a business tool. He frequently makes strategic public appearances (including in The Celebrity Apprentice with Donald Trump).
John Osborn, President and CEO of BBDO New York, will engage in a candid Q&A to explore how business leaders can engage customers and employees to cocreate win/win relationships. He will address in depth how BBDO has responded to, lower ad budgets, social media, and the multiple challenges created by the shifting economy.
Conference host Gerhard Gschwandtner says Hayzlett and Osborn are delivering necessary and timely messages. "It is time for sales management executives to embrace agility and flexibility. These are times of constant transition. If we remain rigid and pursue rigid goals, we will become victims of change."
Confirmed speakers include:

Jerry Whalen, Executive Director of International Sales Strategy, US Postal Service
Patrick Sweeney, President, Caliper
Allison Kerska, Senior Director of Global Learning, Kelly Services Inc.
David DiStefano, President and CEO, Richardson
Sanford Brown, CSO, Heartland Payment Systems
Jeff Cristee, Area Vice President, Cisco
Matthew Serynek, Senior Vice President of European Operations, SunGard
To register or review the conference agenda, visit http://www.sellingpower.com/leadership.
The Sales Leadership Conference is the ideal learning and networking environment for CEOs, CSOs, CMOs, EVPs, VPs of Sales, VPs of Marketing, VPs of Sales Operations, Division/Regional Sales Managers, Sales Operations Managers, and Sales Managers.
To schedule a media interview, email Larissa Gschwandtner at larissa@sellingpower.com. For conference registration information, visit http://www.sellingpower.com/leadership.
About the Sales Leadership Conference
Founded in 2005 by Selling Power publisher Gerhard Gschwandtner, the Sales Leadership Conference series helps sales leaders create more effective sales teams that yield higher productivity, sales, and customer satisfaction. Each conference is a collaborative experience, facilitated by experts who create an active and dynamic learning environment.
MEDIA CONTACT:
Larissa Gschwandtner
713-874-0898
larissa (at) sellingpower (dot) com
###