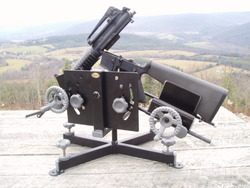 The AR-15 is a filthy rifle. It is the only design I know that actually shuttles all the debris from the bore directly back into the bolt/bolt carrier! So first, you must keep this rifle clean; after every shooting session! Squeaky clean! Clint McKee
Huntington Station, NY (PRWEB) March 24, 2010
All guns require cleaning, especially AR's, and the HYSKORE Master Armorer's Vise (http://www.hyskore.com/master-armorers-vise.htm) is the best and most full featured gun cleaning and maintenance fixture available anywhere. The direct gas impingement action on AR-15s forces hot gas and other debris directly into the action. This means that frequent cleaning is in order. There are an unlimited number of difficult ways to accomplish this. Most of the time, the person doing the cleaning wishes that they had three hands. The Master Armorer's Vise solves all of the challenges associated with AR cleaning and maintenance by properly stabilizing and supporting the gun with the upper receiver hinged against the lower at the exact perfect angle.
"As a starting point you need some sort of cleaning cradle to hold the rifle…nothing is more impossible than trying to hold a rifle in one hand and a cleaning rod in the other." - Matthew Cameron, LongRangeHunting.com
The Armorer's Vise securely grips both the upper receiver and butt stock sections of the rifle in separate, independently adjustable, padded, self-centering vises. Each vise assembly slides latterly on rail sets that can adjust to a wide range of included angles. This way the upper receiver can be angled downward so that all cleaning gunk runs out the muzzle (and not into the action) and the barrel can be cleaned from the breech.
"The advantage of a cradle, is that the rifle is held in place while you're running the cleaning rod back and forth. There is no juggling around while trying to simultaneously hold the rifle, manipulate the rod, getting patches on, trying not to spill that big…glass bottle of cleaning solution, etc. The cleaning process becomes a lot easier when the rifle is held in place in a fixture." - Tod Spotti, published in the IHMSA News
Not only does the fixture have an almost unlimited range of functional adjustments, it also can swivel through 360° on a pair of thrust bearings or be locked in place. The base can be stabilized with 4 point locking levelers or screwed to a bench top or plywood sub base. The vise is also perfect for mounting a rifle scope or performing a wide range of other gun maintenance activities. Although designed with the increasingly popular AR-15 in mind, the Master Armorer's Vise easily adapts to all pump, semi-auto, bolt and lever action rifles and shotguns.
The set also incorporates fittings and features so that a rifle shooter can zero in his deer hunting weapon in 3-5 shots. In this case, one vise is replaced with a padded, adjustable, "V" notch assembly. All the shooter needs to do is follow the simple instructions and "Bingo!" he's right on target. Going a step further, replace the other vise with the platform assembly and you have a great shooting rest. Whether you are hunting the back forty or going on a safari, the Master Armorer's Vise is the perfect firearms maintenance fixture.
A full range of long gun and handgun maintenance and shooting accessories including compression dampened recoil absorbing shooting and tactical / varmint rests is available from HYSKORE®. The line up consists of the DLX Precision Sighting Rest, the Dangerous Game® Machine Rest, the Ten Ring® Shooting & Varmint Rest, and the Dead Eye™ Tactical & Varmint Rest. These are all fully supported on the HYSKORE® http://www.hyskore.com website with instruction manuals, target down loads, and both demo and tutorial videos. Most importantly, these advanced shooting accessories are affordable to the average shooter.
About HYSKORE®
HYSKORE® is a registered trademark of Power Aisle, Inc. (Est. 1988) of Huntington Station, New York 11746, 631/673-5975. HYSKORE® manufactures a proprietary line of advanced, purpose built, tactical and sport shooting accessories including shooting rests, multi-function electronic hearing protection, pistol rests, pistol racks and sundry accessories. HYSKORE® products are available at numerous retailers including: Cabelas http://www.cabelas.com, BassPro, Sportsman's Guide http://www.sportsmansguide.com, Cheaper Than Dirt, http://www.cheaperthandirt.com, Brownells, and Midway USA .
Contacts:
Media:
Trish Greenfield
631/673-5975
Technical:
Ted Werner
631/673-5975
Contact Information:
Theodore J. Werner
Power Aisle, Inc.
info(at)hyskore(dot)com
631/673-5975
###