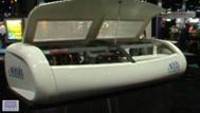 El Segundo, CA (Vocus) March 23, 2010
Aura Systems, Inc. (OTCBB: AUSI) announced today that it has entered into a strategic alliance with Zanotti in North America ("ZE Inc."). Aura will integrate its patented AuraGen(R) power generation and management solution with Zanotti's transport refrigeration systems to create the all-electric solution. Both companies will jointly market these systems to the various segments within the transport refrigeration industry, including midsized trucks, pup and full-size trailers. Zanotti in North America's distribution network will be trained to distribute, sell, install and offer after-market servicing for the all-electric transport refrigeration systems.
Zanotti SpA is a leading global manufacturer and distributor of transport, industrial and commercial refrigeration systems for the food industry. Zanotti, based in Pegognaga, Italy, has more than 50 years of operating history, and has manufacturing facilities in seven countries and distributes its transport refrigeration solutions in 90 countries worldwide. For more information on Zanotti refrigeration visit http://www.zanotti.com
Mr. Melvin Gagerman, Aura's CEO said, "We are very pleased to have this strategic alliance with Zanotti (ZE Inc.) for our all-electric transport refrigeration system. This alliance will provide our Company with access to both service and installation capabilities through a comprehensive dealer network across the U.S. and Canada. It will also allow us to expand our customer base from midsized trucks, to pup and full-size trailers with the most advanced refrigeration system available worldwide. In addition, this strategic alliance in the U.S. is a prelude to a much broader opportunity not covered by this agreement - the distribution of our all-electric refrigeration solution globally."
Mr. Michael Driscoll, Director and CFO of Zanotti (ZE Inc.) said, "We are pleased to enter into a strategic alliance with Aura. Aura's revolutionary power system will clearly result in a global paradigm shift in transport refrigeration. The all-electric solution is clearly the way of the future, allowing operators to save significant amounts of fuel and maintenance costs and at the same time, to help the environment by reducing harmful emissions. Our state-of-the-art transport refrigeration system, when combined with Aura's revolutionary power solution, will provide our customers with a competitive advantage in transport refrigeration."
For more information on Aura Systems Inc. visit http://www.aurasystems.com
Source: Aura Systems, Inc.
Aura Systems, Inc.
Melvin Gagerman
Chairman and CEO
310-643-5300 x171
mgagerman (at) aurasystems (dot) com
or
Cipora Lavut
404-539-2161
clavut (at) aurasystems (dot) com
###