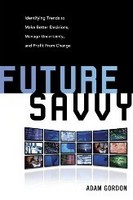 New York, NY (Vocus) March 23, 2010
There's no shortage of predictions available to organizations looking to anticipate and profit from future trends!
Apparently helpful forecasts are ubiquitous in newspapers and business magazines, and in specialized sources such as government and think-tank forecasts, consultant reports, and stock market guides.
These forecasts are important for making better decisions about the future, but they are also of very mixed quality.
Questions Adam Gordon can address are:

What information from the endless sea of predictions is valid?
How does one know which predictions to take seriously and which to be wary of, and which to throw out entirely?
How does this help leaders and consumers make better decisions going forward?
Adam Gordon shows us all how to discern quality in future thinking. He views the predictions as a crucial resource, but sharpens the critical tools in the hands of forecast readers and users.
Adam Gordon is based in the UK, and will be speaking at various venues in the metro New York City area including the Mid-Manhattan Library, The Luxury Marketing Council of Philadelphia, The Chappaqua Public Library and several private corporate engagements.
About Adam Gordon: Adam Gordon is the director of Adaptive Future, a consulting and executive education firm specializing in industry foresight for business and public-sector organizations. He was a Senior Associate at the Washington DC business foresight think-tank, Coates & Jarratt Inc. from 1996. Adam has been prominent in leadership of professional associations and leadership forums, including the World Future Society, Washington DC; and Shaping Tomorrow, UK. He is on the Editorial Board of World Future Review, Washington DC, and has been published in various business periodicals, including Foresight (International Institute of Forecasters), Directorship, and Industry Week. Professor Gordon has taught MBA and EMBA students in various programs around the world, including INSEAD and Cedep, and is adviser to the Regent University MA in Strategic Foresight.
PUBLICITY CONTACT: To schedule an interview, contact Sarah Wilson, Sarah Wilson Business Communications, (518) 637-4326 sarah (at) swbcommunications.com
###