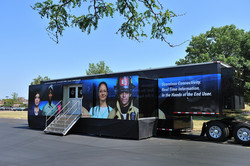 Milwaukie, OR (Vocus) March 23, 2010
Day Wireless Systems and Motorola are hosting a wireless technology showcase on Thursday, March 25th at the Tillamook County Sheriff's Office (ATV Center). Featured at the event will be the Motorola Technology Pavilion, an 18 wheeler with a trailer that expands to 900 square feet, creating a demo showroom and meeting space. Government agencies and commercial organizations in Clatsop, Columbia, Lincoln, and Tillamook Counties will be discussing communication strategies and will have the opportunity to see and demo the latest in wireless technology.
Day Wireless Systems and Motorola have put together a day of informative seminars with industry experts. Topics include:

P25 Standard, OWIN, Narrowband Mandate, County Strategy
Motorola P25 Radio Subscriber Portfolio
In Vehicle Technology: Mobile Workstations, Video, License Plate Recognition
Wireless Networking: Indoor and Outdoor Connectivity
Enterprise Mobility: Enhancing Efficiency with Mobile Computing and Software
MotoTRBO Digital Radio Overview
Funding Programs, Grant Resources, Leasing
Day Wireless Systems Services: System Design, Repair, Licensing, Construction, Installation
North Oregon Coast agencies have some major decisions to make over the next few years in regards to critical voice and data systems. Public Safety, Government, Utilities, and large Commercial wireless operators should take advantage of this exclusive opportunity. The event in Tillamook is the only scheduled stop in the Pacific Northwest for the Motorola Technology Pavilion. Contact Day Wireless Systems for more details.
Day Wireless Systems is composed of 26 locations throughout the West and more than 300 employees. Since 1969, Day Wireless Systems has been providing professional wireless services for demanding commercial, government, and mission critical public safety systems, and is the largest Motorola Dealer in the USA. For more information on Day Wireless Systems, please visit http://www.daywireless.com
# # #