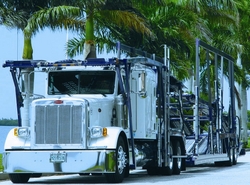 Miami, FL (Vocus) March 25, 2010
One of America's most trusted and professional auto shipping companies, Budget Auto Shipping, is announcing that they will now be offering a way to find affordable auto shipping not only members of the military, but also government employees. In standing with their previous offers to military and college students, all government employees may now also qualify for a 10% reduction in the normal price of auto shipping whether domestic or international. As always, if the contract includes land and international shipping, the customer could qualify for as much as 50% off the regular price.
One of the most exciting aspects of this offer is that, under Tax Topic 455, the cost of using Budget Auto Shipping to relocate a vehicle due to government job relocation is tax deductible, saving government employees even more money. This tax deduction applies to all types of auto shipping offered by Budget Auto Shipping. If a customer needs added protection for their car, they can choose to use an enclosed auto hauler for domestic shipping. In addition, the tax deduction also applies to roll-on/roll-off and container methods for international shipping.
In order to receive the largest discount on auto shipping services, government employees and their families are also eligible to stack discounts by including land and international shipping for their order. In this way, customers can use door-to-door countrywide auto transport services (the vehicle will be picked up at the customer's current residence and dropped off directly at the new location) and take advantage of both the 50% discount for including domestic services with international and the 10% discount for government employees - for a total of 60% off the standard order price.
Budget Auto Shipping prides itself on offering some of the cheapest and dependable auto shippers in the industry. They can offer same day pick-up for vehicles and require no deductible in order to secure services. In addition, they also promise to never charge any hidden fees for vehicle shipping. There are no terminals where a government employee must go to pick up their car. In fact, all vehicles can be delivered to a convenient location for the customer at a realistic price.
Budget Auto Shipping is fully licensed and bonded and offers each government employee $750,000 in insurance on their vehicle. Their 5 point inspection both on pick-up and delivery ensures that the car, once it reaches it's destination, is in the same condition as it was when it was first cleared for shipping.
For more information how to ship a car to Hawaii services or to place a free quote today, visit their web site at http://budgetautoshipping.com/ or call 1-888-301-HAUL(4285).
About Budget Auto Shipping
A long standing premiere vehicle shipping company, Budget Auto Shipping promises its customers the highest standards of auto shipping practices at prices kept at the absolute minimum, to suit any budget. Their expert team of drivers has been tested and filtered to ensure that only the drivers that deliver on time and act in a responsible and reliable manner are ready to meet the shipper's needs.
###