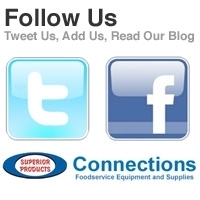 With so much information available online, we're excited that Superior Connections has this opportunity to provide industry news and tips our restaurant partners can trust
St. Paul, MN (PRWEB) March 23, 2010
Superior Products offers solutions for commercial kitchen inefficiencies in its blog, Superior Connections.
Understanding which commercial kitchen equipment delivers both value and efficiency can be challenging for restaurant owners. Superior Products shares insight and product information that simplifies finding the right equipment or restaurant appliance.
"With so much information available online, we're excited that Superior Connections has this opportunity to provide industry news and tips our restaurant partners can trust," says Thomas Little, Marketing Director.
Superior Products has established a 75-year legacy for creating partnerships within the food service industry. By sharing product insights and industry news, the company's blog looks to solve many common commercial kitchen issues like maximizing food preparation space and finding efficient appliances.
Customers can access Superior Connections by becoming a fan of Super Products on Facebook, or following the company on Twitter.
Superior Products is a commercial kitchen equipment supplier that offers solutions that deliver efficiency and value. As a trusted industry leader since 1935, our in-depth product knowledge makes our professionals valuable business partners.
# # #