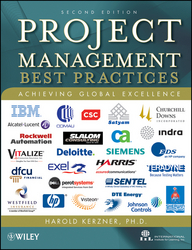 We are proud to be using the new edition of this outstanding and highly acclaimed book in one of our most popular project management courses. As far as we can tell, there is no other book in the marketplace that gives such a detailed,
Hoboken, NJ (PRWEB) March 23, 2010
John Wiley & Sons, Inc. - Project management as a discipline grew out of the need during WWII for a system to manage the schedule, cost and specifications of large projects. In recent decades the use of project management techniques in general business methods (planning, scheduling, and controlling) have risen sharply. Project management is now understood as a critical part of any successful, competitive business. PROJECT MANAGEMENT: Best Practices: Achieving Global Excellence, 2nd Edition (John Wiley & Sons; March 2010; $85.00) has been completely updated and now offers a focused presentation of the critical aspects of project management. Written by one of the best-known and respected authorities on the subject, Harold Kerzner, this revised edition contains contributions from global companies and supplies information on the implementation of project management in these firms.
Today, project management is regarded as both a project management process and a business process. As such, project managers are expected to make business decisions as well as project decisions. The necessity for achieving project management excellence is now readily apparent to all businesses, and PROJECT MANAGEMENT: Best Practices, 2E presents both updated information from companies covered in the earlier edition and new information from companies who have been unheard from in the past.
Coverage includes:
•Best practices in project risk management
•Project management multinational cultures and cultural failures
•Integrated project teams and virtual project teams
In addition to covering the key components of the subject and how it's deployed in many different organizations, PROJECT MANAGEMENT: Best Practices, 2E is perfect for use in training courses, seminars, and in-house training in the companies who provide the information.
E. LaVerne Johnson, Founder, President, and CEO of International Institute for Learning, Inc. (IIL), said "We are proud to be using the new edition of this outstanding and highly acclaimed book in one of our most popular project management courses. As far as we can tell, there is no other book in the marketplace that gives such a detailed, "inside" look at project management best practices in the best companies throughout the world. Everyone should want to benchmark their efforts against those revealed in Dr. Kerzner's outstanding book."
Dr. Harold Kerzner adds "Today, being good at project management is not enough. When you're good at project management, the competition can catch up to you. In order to stay ahead of the competition, you must therefore excel at project. This book will show you how some companies have become the best-in-class in project management."
For any individual or organization facing the questions of how to implement project management, how fast it can be done, how quickly until the organization is mature in project management, and what are the best practices to accelerate the implementation of project management, this book is the ultimate guide that not only explains the topics, but shows how successful organizations tackled the same questions.
ABOUT WILEY:
Founded in 1807, John Wiley & Sons, Inc. has been a valued source of information and understanding for more than 200 years, helping people around the world meet their needs and fulfill their aspirations. Wiley and its acquired companies have published the works of more than 400 Nobel laureates in all categories: Literature, Economics, Physiology or Medicine, Physics, Chemistry, and Peace.
Our core businesses publish scientific, technical, medical, and scholarly journals, encyclopedias, books, and online products and services; professional/trade books, subscription products, training materials, and online applications and Web sites; and educational materials for undergraduate and graduate students and lifelong learners. Wiley's global headquarters are located in Hoboken, New Jersey, with operations in the U.S., Europe, Asia, Canada, and Australia. The Company's Web site can be accessed at http://www.wiley.com. The Company is listed on the New York Stock Exchange under the symbols JWa and JWb.
ABOUT IIL:
With a strong network of IIL companies all over the world and clients in more than 200 countries, IIL is a global leader in training, consulting, coaching and mentoring. Our core competencies include: Project, Program and Portfolio Management; Business Analysis; Microsoft® Project and Project Server; Lean Six Sigma; PRINCE2® and ITIL®. Using our proprietary Many Methods of Learning™ enables IIL to deliver innovative, effective and consistent training solutions through a variety of learning approaches (traditional classroom, virtual classroom, simulations, self-paced online and a blended approach). A PMI® Charter Global Registered Education Provider, a member of PMI's Corporate Council, an Accredited Training Organization for PRINCE2 and ITIL, a Microsoft Gold Certified Partner and an IIBA® Endorsed Education Provider, IIL is the training solution partner of choice for many top global companies.
ABOUT THE AUTHOR:
Harold Kerzner, Ph.D., is Senior Executive Director for Project, Program and Portfolio Management at the International Institute of Learning, Inc. (IIL), a global learning solutions company that conducts training for leading corporations throughout the world.
PROJECT MANAGEMENT
Best Practices: Achieving Global Excellence, 2nd Edition
Published by John Wiley & Sons, Inc.
Publication date: March 2010
$85.00; Hardcover; 704 pages; ISBN: 978-0-470-52829-7
###