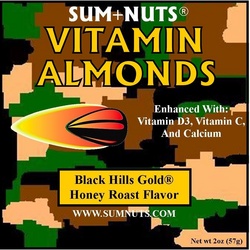 Packaged in Camouflage to Help You Hide Them From Your Friends. They Taste that Good!
(PRWEB) March 23, 2010
Bursting with innovation for the snack food industry and just in time for the summer sports-enthusiasts, Dakota Valley Products, Inc. announced today the launch of a new Vitamin Enhanced line of almonds, cashews and peanuts. Each 2 oz camouflage package of Sumnuts® Vitamin Nuts contain the full Recommended Daily Allowance (RDA) of Vitamin C and 33% of the RDA of Calcium, in addition to the normal nutritional benefits naturally found in nuts.
"Developing great tasting unique products is in our DNA at Dakota Valley", says product inventor Doug Cossette.. "It is our hope that SumNuts Vitamin Nuts will be a viable healthy snacking alternative for American consumers." Cossette also stated that Dakota Valley set out to combine the benefits from vitamins and calcium with zesty flavors and all the benefits naturally found in nuts such as antioxidants and vital nutrients (eg fiber, magnesium and selenium) using unique Patent Pending technology developed by Dakota Valley.
Almonds and cashews (and peanuts to a lesser extent) are a great source of magnesium, which recent research has shown is helpful in reducing certain cancers such as colon cancer. Calcium is also reported to help fight colorectal cancer, as well as boost immunity and reduce risks of Type II diabetes.
Although the bright multi-color camouflage packaging will standout and be easily noticeable in crowded store display racks, the slogan "Packaged in Camouflage to Help You Hide Them From Your Friends. They Taste that Good!" is being used to help promote the unsurpassed taste inherent in SumNuts® Vitamin Nuts. Marketing Manager Tim Walter explains. "Early in the research cycle for this product launch, we actually had a sales broker concerned that, by using a camouflage pattern package, people wouldn't be able to find the product in the store," he said, laughing. "That was priceless, and we ran with it."
SumNuts® Vitamin Nuts come in a number of delicious flavors, including Black Hills Gold® Honey Roast (almonds, cashews and peanuts), Heat! (peanuts), Aruba Heat (peanuts and cashews) , Mild Chili Lime (peanuts), and Sweet Onion( almonds). All DVP products are proudly Hand Crafted in Small Batches in Dakota Valley's own plant in Willow Lake, South Dakota.
SumNuts® Vitamin Nuts joins Dakota Valley's line of enhanced products including SumNuts® Energy Nuts, Sumseeds® Jumbo Energized Sunflower Seeds (http://www.sumseeds.com), and Hyper-Nutz™ Energy Almonds (http://www.hyper-nutz.com)
All of Dakota Valley's products are available in select stores nationwide and online at http://www.dvproducts.net.
###