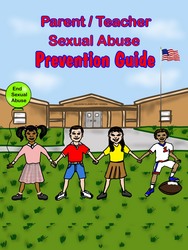 "Recent high-profile cases across the country prove that this is necessary" adds Swain.
Boston, MA (PRWEB) March 24, 2010
On Friday, April 2nd, author, and child advocate, Shnell Swain, will be giving away book sets to the first 50 people who place an order at http://www.endchildmolestation.com. The "My Child Safety" book set, in both boy's and girl's editions, is also available for purchase on the website. Each set includes a coloring and activity book for children, an abuse prevention guide parent's and caregivers, and a box of crayons.
"My experience has become my catalyst to prevent and/or end child molestation," says Ms. Swain. "My goal is to educate children in an entertaining way, while offering adults a tool that helps them to initiate a dialogue to help detect, prevent and/or interrupt child abuse."
According to statistical abstract from the US Census Bureau, well over three million children are victims of sexual abuse. Unfortunately, this number grows each year. Incest and child molestation are a silent epidemic that has affected many people, including celebrities. Some who might be familiar to readers include Oprah Winfrey, Tyler Perry, Terry Hatcher, Queen Latifah, Carlos Santana, Pamela Anderson and Mary J. Blige, to name just a few. Child molesters exist in every part of our society and it is important to recognize that they molest both strangers and children close to them. Studies show that 90% of victims are either their molester's family member or in the same social circle. Estimates show that only about 35% of sexual abuse is reported. Because most children do not tell about being sexually abused, it is up to adults to recognize the signs of abuse.
"Recent high-profile cases across the country prove that this is necessary," adds Swain. Child sexual abuse's effects can be catastrophic. High rates of depression, substance abuse, anxiety, dissociative disorders, sexual problems, and suicidal ideation have been linked in varying degrees to survivors of abuse. Please help us to create a safer world for everyone. Visit us on the web at http://www.endchildmolestation.com to get a complimentary book set, purchase related products, or donate to this important and worthy cause.
About the author: As a small child, Ms. Swain suffered from years of sexual abuse at the hands of family members. Now she is dedicated to ensuring that other children don't have to endure a similar experience. She is also a contributing writer for the Southwest Parenting Magazine in Atlanta, Georgia.
Contact :
Shnell Swain
Phone: 404-492-0244
Email: talk2shnell(at)endchildmolestation(dot)com
# # #