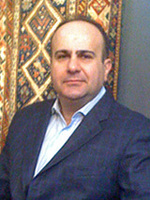 I am happy and proud to be able to bring this resource to the Internet and provide collectors with a new way to seek advice on making an acquisition of a lifetime.
New York, NY (PRWEB) March 23, 2010
From the finest selection of collectible Caucasian, Anatolian and Persian Rugs to a solid business sense with a foundation of excellence built upon skill, reputation, and unmistakable taste, there is no question that Hagop Manoyan Antique Rugs stands out from the competition and provides only the highest quality rugs to satisfy the most discriminating collectors. In business as a restorer since 1980, Hagop Manoyan, owner, recently expanded operations to the Internet with the launch of his new online rug gallery. The gallery aims at counseling collectors who may not have the time or technical ability for discerning the best quality rugs to add to their collection.
Handmade Collectable Antique Rugs
Collectors who seek unique pieces will find that jet-setting to a distant location is a thing of the past with an online gallery that offers unparalleled quality rugs for viewing and purchase. The excitement has already begun to build for the limited edition Caucasian rugs that are indeed rare collector's items offering one-of-a-kind excellence and quality that is uncommonly beautiful to own.
Antique rugs such as the Anatolian rugs featured on Hagop's online gallery lend a particular spice and vivaciousness to any location where they are placed. These breathtaking originals can be viewed online in vivid detail and color with detailed descriptions about each rug and their dimensions to gauge the perfect fit. Many in the collection date back to the 1800's, offering collectors ownership of rare and original works of art.
"I am happy and proud to be able to bring this resource to the Internet and provide collectors with a new way to seek advice on making an acquisition of a lifetime," Hagop Manoyan, owner says. "It is the kind of selection at your fingertips that offers even the most discriminating collectors an opportunity to add one-of-a-kind pieces to their collection with confidence."
This online resource provides the ultimate experience in viewing some of the finest antique rugs in pristine condition and with variety to suit even the most discriminating taste. From divan covers to prayer rugs to full sized Serapi carpet, exquisite beauty awaits the collector who wants to indulge in building their collection without the bother of travelling the distance to see the rugs. This new resource offers collectors around the world the opportunity to experience the beauty and luster of these antique rugs online from their location.
Manhattan Antique Rug Gallery:
Those who are near New York City area can also visit Hagop Manoyan Antique Rugs in person, which is located at 38 E 32nd Street, #203, New York, NY 10016. Conveniently located in mid-town Manhattan, Hagop's studio makes it possible to view these fine rugs up-close and learn how these fascinatingly beautiful rugs have made their way to the gallery and can become a permanent fixture in your home. Owner Hagop Manoyan has been crossing the Atlantic and traveling Europe and Asia since 1980, bringing back some of the best antique rugs for those with superb taste, knowledge, and an eye for quality.
About Hagop Manoyan:
Through his years of experience and effort, Hagop Manoyan has established himself as one of the most highly reputed and respected dealers in the antique rug industry. He built his business from the ground up, basing it on a solid foundation of skill, learning, professionalism, and impeccable taste. Discriminating collectors worldwide have come to rely on his ability to advise them on the quality and direction of their acquisitions, and Hagop has been instrumental in establishing some of the best antique rug collections assembled in recent times.
Editors Note: Hagop Manoyan is available for commentary on the antique rug industry, offering general industry overview, with particular expertise in carpet restoration and appraisals.
For additional information about Hagop Manoyan Antique Rugs, visit hagopmanoyan.com
Contact:
Hagop Manoyan
917-534-6474
38 E 32nd St #203
New York, NY 10016
###