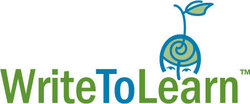 It's simple: reading and writing skills are critical to achievement in all subject areas. For students to be successful in math, science, history or any other discipline they pursue, they must have the requisite literacy skills to tackle the content being taught
Boulder, Colo. (PRWEB) March 23, 2010
For all U.S. high school graduates to be college- and career-ready, strong reading and writing skills are the golden ticket. Today Pearson unveiled hundreds of additions to the reading and essay-writing capabilities of WriteToLearn™, the company's complete online tool for building the reading-comprehension and writing skills that are critical for academic success. Hundreds of schools across the country have turned to WriteToLearn since its launch five years ago to harness the power of technology to help their students build writing and reading-comprehension abilities.
With WriteToLearn, students practice essay writing and summarization skills, and their efforts are measured by Pearson's state-of-the-art Knowledge Analysis Technologies™ (KAT) engine. The KAT Engine is a unique automated assessment technology that evaluates the meaning of text, not just grammatical correctness or spelling.
"It's simple: reading and writing skills are critical to achievement in all subject areas. For students to be successful in math, science, history or any other discipline they pursue, they must have the requisite literacy skills to tackle the content being taught," said Lynn Streeter, president of the Knowledge Technologies group of Pearson, developer of WriteToLearn. "With each update to WriteToLearn, we are demonstrating our commitment to making it an even more powerful tool for ensuring that students build these important skills while learning in an engaging, motivating online environment."
With this update, WriteToLearn now features nearly 200 new reading passages in science from Pearson's popular Scott Foresman Science for grades 4, 5 and 6, growing its library to nearly 800 engaging reading passages from subjects across the curriculum. Students read these passages online and then summarize them using the online writing tool. They receive immediate feedback from WriteToLearn, detailing the steps they can take to improve their writing. A "scoreboard" shows students their progress as they work to move into the "excellent" zone. For struggling readers and English Language Learners, WriteToLearn provides text-to-speech capabilities with added dictionary and spot word translation so they can listen to the reading passages before writing their summaries.
More than 125 new essay topics relevant to contemporary classrooms have also been added to WriteToLearn. Now teachers can choose from an even larger library of prompts when assigning essays to their students. For essays, WriteToLearn provides feedback on six popular traits of writing - ideas, organization, conventions, sentence fluency, word choice and voice - and allows students and teachers to focus on each of these important dimensions of writing.
In addition to choosing from a robust library of essay topics that come with WriteToLearn, teachers can create their own topics to assign to their students. To expand teachers' capabilities for providing students with meaningful feedback to improve their writing, WriteToLearn now features enhanced student feedback on teacher-created prompts. This enhanced feedback gives students additional, targeted guidance for revising future drafts of their essays.
All schools and districts with current WriteToLearn accounts will receive the updates free of charge. More information about WriteToLearn is available at http://www.WriteToLearn.net.
About Pearson
Pearson (NYSE:PSO), the global leader in education and education technology, reaches and engages today's digital natives with effective and personalized learning, as well as dedicated professional development for their teachers. This commitment is demonstrated in the company's investment in innovative print and digital education materials for preK through college, student information systems and learning management systems, teacher professional development, career certification programs, and testing and assessment products that set the standard for the industry. Pearson's commitment to education for all is supported by the global philanthropic initiatives of the Pearson Foundation. Pearson's other primary businesses include the Financial Times Group and the Penguin Group. For more information, go to http://www.pearson.com.
For more information, press only:
Adam Gaber, Pearson, 800-745-8489
Lisa Wolfe, L. Wolfe Communications, 773-227-1049
###