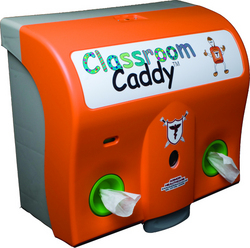 We want to thank all of our school customers for making 2009 a wonderful year! Without customers there would be no story to tell. We look forward to introducing many more schools and districts to our Classroom Caddy and related products. ~ Bob Simmons
San Francisco (PRWEB) March 23, 2010
Armor Healthcare LLC has been selected for the 2009 Best of Business Award in the School Infection Prevention category by the Small Business Commerce Association (SBCA)
The Small Business Commerce Association (SBCA) is pleased to announce that Armor Healthcare LLC has been selected for the 2009 Best of Business Award in the School Infection Prevention category.
The SBCA 2009 Award Program recognizes the top 5% of small businesses throughout the country. Using statistical research and consumer feedback, the SBCA identifies companies that we believe have demonstrated what makes small businesses a vital part of the American economy. The selection committee chooses the award winners from nominees based off statistical research and also information taken from monthly surveys administered by the SBCA, a review of consumer rankings, and other consumer reports. Award winners are a valuable asset to their community and exemplify what makes small businesses great.
Armor Healthcare's CEO Bob Simmons ~ we are extremely pleased and proud to except this award. It is a reflection of the hard work of our employees and a direct reflection that schools are now taking proactive steps to protect the overall health of children in the K-12 school systems. H1N1, Methicillin resistant Staphylococcus aureus (MRSA) and other invasive germs and bacteria are an ever-growing concern to the school staff and parents. The Armor Healthcare Classroom Caddy™ is the only all-in-one system to combat this increasing problem in schools.
The Classroom Caddy™ was designed to be the most effective infection control tool with the smallest possible footprint on the school. The Classroom Caddy and all of the products are 100 percent recyclable and non-toxic to children and the environment.
Simmons points out the opportunity cost of saving teachers' and students' time from missing school days is extraordinary. In fact, if a teacher in each classroom reduces sick days by only two days a year, the Classroom Caddy™ system pays for itself. There are several other factors that support this as a tool that has a direct return on investment (ROI) and will save schools and districts money on an annual basis. The data is so compelling the decision to install the Classroom Caddy™ becomes a "no brainer".
About Armor Healthcare, LLC
Armor Healthcare, LLC is an education infection control company that was born out of sheer need in September of 2007. With combined 40 plus years of experience in the healthcare industry, Armor was able to see what has been missing in the education market and resolved to create a venue to fill the void.
To learn more about the company and about ordering the system for a school district, visit 'http://www.armorhealthcare.com
Interested parties should contact Armor Healthcare directly at 1-888-339-2766.
About Small Business Commerce Association (SBCA)
Small Business Commerce Association (SBCA) is a San Francisco based organization. The SBCA is a private sector entity that aims to provide tactical guidance with many day to day issues that small business owners face. In addition to our main goal of providing a central repository of small business operational advice; we use consumer feedback to identify companies that exemplify what makes small business a vital part of the American economy.
Source: Small Business Commerce Association
Contact:
Small Business Commerce Association
URL: http://www.SBCAAwards.org
###