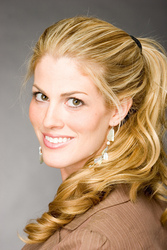 With the addition of three recent management contracts to its portfolio and the appointment of Somer Reynolds as CFO, ARK Management has embarked on a growth initiative in Southern California
San Diego, Calif. (PRWEB) March 23, 2010
ARK Management, a commercial property management company, has furthered its recent growth initiative with the addition of CPA Somer Reynolds as Chief Financial Officer and Asset Manager. This appointment comes as the firm positions itself for expansion throughout Southern California by securing new third-party management contracts and expanding its team.
"With the addition of three recent management contracts to its portfolio and the appointment of Somer Reynolds as CFO, ARK Management has embarked on a growth initiative in Southern California," explained Adam S. Robinson, Co-Founder/Asset Manager for ARK Management. "Somer brings a wealth of expertise to our team, including property management, tax planning, consulting and preparation for an extensive array of organizations. Her large focus on real estate partnerships and investment makes her an especially strategic addition to our firm."
With more than eight years of experience, Somer was previously a controller with LBA Realty. Reynolds oversaw the accounting and coordination of operations, reporting, and tax processes for both the corporate and management offices, as well as several real estate investment entities. Prior to LBA Realty, Reynolds practiced public accounting with Mayer Hoffman McCann P.C. (MHM) and Considine & Considine.
Reynolds holds a Bachelor of Science in Accounting with an emphasis in Information Technology from the University of San Diego. She is also a Certified Public Accountant, licensed by the California Board of Accountancy.
About ARK Management
ARK Management is a privately owned, full-service commercial property management and association management company serving Southern California. ARK Management specializes in industrial, office and retail property management services that preserve and enhance the value of its clients' assets through diligence, efficiency and sound business judgment. ARK Management is based in San Diego with satellite offices in Orange County and Los Angeles County. More information is available at http://www.ark-management.com.
###