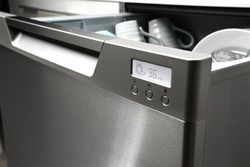 Huntington Beach, Calif. (Vocus) March 23, 2010
Come witness the vision of Fisher & Paykel Appliances' this April at the Kitchen & Bath Industry Show in Chicago. The global appliance manufacturer markets both Fisher & Paykel and DCS by Fisher & Paykel throughout the United States and Canada.
Fisher & Paykel Appliance's heritage dates back to 1934 where it started as a small company manufacturing designs under license. Over the past 76 years the company has expanded into a global manufacturer with factories on four continents employing over 3300 people with sales in over 60 countries totaling a turnover of over $1Billion. As the appliance industry has evolved, so too has the depth of the brand offerings in the North American market. The Kitchen & Bath show will set the stage for the solidification of one company; two brands.
The Fisher & Paykel brand incorporates the world's most innovative technologies driven from a passion to produce the most technically advanced, efficient and contemporary styled appliances. As pioneers of the world's first drawer dishwasher – DishDrawer® – Fisher & Paykel continues to pave the way for appliance innovation to inspire creative living.
The 2010 KBIS show will once again act as the world stage for the release of the next chapter of energy/water efficient laundry and the latest design innovations which form the basis for the next kitchen evolution – the development of a modular range of 36" Kitchen Solutions.
The heritage of the DCS by Fisher & Paykel brand began in the late 1980's as the country's leading engineers and designers created the first line of high-end commercial quality appliances. Recognizing the desire for home chefs to master restaurant culinary cooking, DCS expanded to pioneer both indoor and outdoor kitchen solutions for the at home chef to not only cook like a professional but live deliciously.
Uniting style, innovation and design, the Kitchen & Bath show will debut a new indoor line with a new vision of modern sophistication and performance with the professional durability that is inherent to the DCS brand.
###