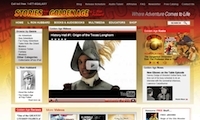 The great thing about this project is that these episodes are both humorous and educational
Los Angeles, CA (PRWEB) March 22, 2010
Book publishing company Galaxy Press has announced the launch of a new line of online video programming called "History Hall," featuring Gary Golden (a.k.a. "Mr. History"). World-renowned explorer, adventurer, historian and lecturer, Gary Golden has been fascinated with the pulp fiction era ever since he saw his first Lone Ranger action figure as a small boy.
The first episode, "History Hall #1: Origin of the Texas Longhorn," is based on the story "Under the Diehard Brand," written by pulp fiction author L. Ron Hubbard. When Lee Thompson is making the long journey from Texas to Montana to see his aging father, he gets wind of the fact that the old man, one Sheriff Diehard Thompson, is losing control over Wolf River's town troublemakers who are rustling Texas Longhorns. So, Lee decides to step in. Go to http://www.goldenagestories.com to see the video.
"Golden" is played by improv comedian and voice actor Josh Robert Thompson ("The Late Late Show," "Final Fantasy XIII"). "The great thing about this project is that these episodes are both humorous and educational," stated Thompson. "So while you're laughing, you're also learning a lot of really cool historical facts. It's a very effective and entertaining combination." Josh has also recorded countless character voices for many of the Stories from the Golden Age audio books.
Stories from the Golden Age (http://www.goldenagestories.com) is a line of 80 books and multi-cast, unabridged audio books, featuring 153 stories written by L. Ron Hubbard in the 1930s and 1940s in any of the several popular genres of the day—mystery, thriller, adventure, science fiction, fantasy and western—using his own and any of the 15 pen names he used.
To watch "History Hall" or learn more about Stories from the Golden Age, go to http://www.goldenagestories.com.
Contact:
John Goodwin
Galaxy Press
323-466-7815
jgoodwin(at)galaxypress(dot)com
###