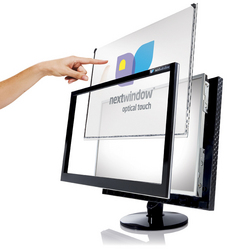 We're ramping-up out of sheer necessity
Pleasanton, CA (Vocus) March 24, 2010
NextWindow, the leading provider of optical touch screens to manufacturers of desktop PCs, monitors and large-format displays, today announced that a series of manufacturing improvements at its factories in Asia have helped the company to increase touch screen output capacity significantly. The upgraded processes are associated with heat staking, glue dispensing, curing, assembly and set-up of touch screens. By adding new production lines, automating previously manual processes and updating equipment and test software, NextWindow has been able to double its manufacturing capacity.
NextWindow is increasing manufacturing capacity at a time when global interest in Touch PCs and monitors is at an all-time high. Market researcher Gartner expects demand for Touch PCs to surpass six million units in 2010, and analyst firm Displaybank is predicting the touch screen panel market will grow from $2.45 billion in 2009 to $3.6 billion in 2010. Already, NextWindow touch screens are used by many of the world's largest electronics companies including Dell, Hewlett-Packard, Lenovo, Medion, NEC and Sony. For these and other companies NextWindow produced one touch screen every 12 seconds, 24 hours-a-day, seven days-a-week, last year alone.
"We're ramping-up out of sheer necessity," said Al Monro, CEO at NextWindow. "Touch technology is making desktop computing fun again. The fun factor, coupled with the launch of Windows 7 in October, is driving consumers and enterprises to upgrade their desktop PCs and monitors. PC makers are responding with new products and the pressure to increase manufacturing capacity flows down to us. Of course, this is a great problem to have. Through a series of manufacturing process improvements we have been able to increase capacity while maintaining our traditional high-performance, low-cost standards."
About NextWindow
NextWindow is a leader in touch-screen technology and a major manufacturer of optical multi-touch screens for OEMs, ODMs and resellers. With highly accurate, cost-effective solutions designed for personal and business use, NextWindow provides the hardware necessary to bring touch-screen technology to life—giving software designers the freedom to create exciting and intuitive applications. Founded in 2000, NextWindow is privately held with offices in New Zealand, Taiwan, USA, Singapore and Korea, with manufacturing facilities throughout Asia. More information about NextWindow is available at http://www.nextwindow.com.
Company contact:
David Villarina, NextWindow
+1 (925) 272-4530
###