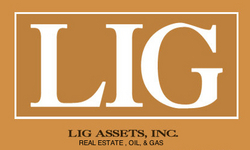 "The scrutiny it took to make sure this venture was successful was monumental, but the work we plan on putting in this red hot hydrocarbon region is going to turn some heads in the energy industry."
Dallas, TX (PRWEB) March 24, 2010
LIG Assets Inc., real estate mogul based out of Dallas, TX, is buying a proven oil concession from one of the fastest growing oil companies in South America. Jeff Love, CEO and owner of LIG Assets Inc., has contracted block "A" of the affluent Peruvian Oil company Olympic Peru Sucursal del Peru. LIG Assets Inc. with its purchase will have in upwards of $13 billion of untapped hydrocarbon assets in this venture with guaranteed $1.35 billion in proven oil reserves. The new owner of the concession is planning on substantially increasing the already successful exploration program that proved to be one of the most triumphant in the region.
Mr. Love articulates, "The scrutiny it took to make sure this venture was successful was monumental, but the work we plan on putting in this red hot hydrocarbon region is going to turn some heads in the energy industry." Along with this procurement, LIG Assets Inc. is in negotiations for other large scale purchases and is actively searching for supplementary blocks of energy in the successful Peruvian market.
Jeff Love is taking his company public through his securities firm Anslow and Jaclin, LLP (http://www.anslowlaw.com) and Going Public, LLC (http://www.gopublicpros.com) with plans of diversifying his already prosperous real estate portfolio with the ever expanding energy market. LIG Assets, Inc. is in the process of launching its initial public offering within the next 5 weeks and is targeting one of the top tier public stock markets. The company has plans to start out its share price at 10 dollars per share when it goes public and immediately move to the NASDAQ stock exchange.
Jeff Love, CEO of LIG Assets, Inc., says "The potential for our company has the prospect of becoming one of the major players in the Peruvian energy market, complimenting our already successful real estate ventures state side."
The purchase of the massive concession down in Peru should prove to skyrocket LIG Assets Inc.'s sterling reputation to that of an international powerhouse. Plans have been set to close on the concession by March 25, 2010 allowing LIG Assets Inc. the faculty to explore more of the monstrous concession. Along with its confirmed $1.35 billion worth of oil at a 42 API in the concession, LIG Assets Inc. is in negotiations to contract its proven reserves at a daily fluctuating world market price for the next decade. In its asset purchase, LIG Assets Inc. has gas reserves that are in contract negotiations with a prime gas company in Peru who has sent a contract to purchase all of the gas reserves for the ever augmenting Peruvian market.
LIG Assets Inc. is in a path to becoming a record growing energy and real estate institution with its concession's proven reserves alone, not mentioning the probable reserves in the echelon of ten times as much. LIG Assets Inc. is Dallas based company with offices at 1700 Commerce Suite 1000 Dallas, TX 75201 and can be contact by their website http://www.ligassetsinc.net or main office line 214-760-1000.
###