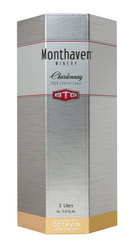 By choosing an Octavin Home Wine Bar instead of glass bottles, consumers reduce packaging waste by 92% and carbon emissions by 55%; and it offers great value by providing the equivalent of four bottles of wine for the price of three
LIVERMORE, CA (Vocus) March 24, 2010
A new collection of artisan wines in an innovative attractive new package was announced today by Adam Richardson, Director of International Winemaking for Underdog Wine Merchants. The international wine collection is being launched with six brands and ten items packaged in a new exciting premium 3L wine cask format, the Octavin Home Wine Bar ™.
"This is the first time a collection of super-premium, artisan wines, representing some of the world's best wine regions, has ever been offered in a premium wine cask format," notes Adam. "The wines are sourced from preeminent and emerging wine growing regions including Monterey County; California Central Coast; Marlborough, New Zealand; Spain and Hungary. I am very proud of these wines; each has been crafted by an artisan winemaker to be true to their varietal character, country of origin and unique terroir. Naturally, we start with the best grapes but then, depending on the wine, we will use oak barrel aging, or in the case of our 'racy' whites, barrel and temperature-controlled fermentation. You just do not see this kind of artisan approach to winemaking at this price point, and all of us at Underdog Wine Merchants are very pleased to be able to offer consumers distinctive wines at a very affordable price."
Each Octavin Home Wine Bar holds 20 five-ounce glasses and keeps the wine fresh for up to six weeks after opening, so it can be easily enjoyed in under a month in adult households with daily wine drinkers. "It truly delivers artisan wine, a glass at a time," says Richardson.
The wines in the new artisan collection are Monthaven Central Coast Chardonnay, Cabernet Sauvignon and Merlot; Silver Birch New Zealand Sauvignon Blanc; Boho Vineyards California Old Vine Zinfandel; Pinot Evil Pinot Noir and Pinot Grigio; Big House Red and White; and Seven, produced from seven Spanish red varietals. Wines are distributed nationally with a SRP of $22-24.
The first wine to be released in the new Octavin Home Wine Bar is Monthaven Winery Monterey County Central Coast Chardonnay. Named for its home in Monterey County, California, this wine benefits from one of the world's longest growing seasons, resulting in a "distinctive full-bodied wine with balanced acidity," says Monthaven Winery winemaker Jeff Yamamoto, who works closely with Adam Richardson. " Monthaven Chardonnay is made in California's largest small-lot winery," notes Jeff. "This allows us to keep grapes from different micro-climates and vineyard blocks separate. The wine is carefully crafted in small lots and then barrel-aged. Adam and I selected American Oak for our Monthaven Chardonnay to assure that the fruit flavors shine through, accented by balanced oak notes and agreeable tannins."
Octavin Home Wine Bar bridges the wine world's interests in value, environmental positives and creative packaging. "By choosing an Octavin Home Wine Bar instead of glass bottles, consumers reduce packaging waste by 92% and carbon emissions by 55%; and it offers great value by providing the equivalent of four bottles of wine for the price of three," says Richardson. "This allows us to invest in making great wines rather than traditional expensive packaging. By eliminating glass bottle expense, we reduce packaging and shipping cost, and then pass the savings along to customers. These are wines without compromise, the same wines that would go into a bottle, but with the stylish Octavin Home Wine Bar, we can deliver these wines at an amazing price and with sustainable business practices."
Roger Boulton, Stephen Sinclair Scott Professor of Enology and chemical Engineering, Department of Viticulture and Enology, University of California recognizes the need for the wine industry to improve business practices in regard to sustainability. "One of the future challenges for the management of all wine businesses is the reduction of their carbon footprint. This number is made up of several contributions and a series of changes will need to be made probably requiring ongoing adaptation. There are questions of the ownership of these emissions - such as bottles and packaging - anything a wine company can do to reduce their carbon footprint will probably be viewed positively by consumers and the larger community. Any wine delivered to market that has resulted in one-third less carbon emissions is a significant and consequential improvement in business practices."
"We've been watching the industry as it adopts innovative packaging, e.g., Stelvin caps. Now, the logical progression is for the package itself used for everyday drinking. The Underdog Wine group has increasingly staked a claim on the premium 3L segment; the unique shape of Underdog's new package will further make their wines stand out from the crowd, "stated Eileen Fredrikson, Gomberg, Fredrikson & Associates.
Underdog Wine Merchants are champions of "hidden treasure" or under-appreciated wines-ones that are truly unique, of great value and the true "underdogs" of the wine world. For information about Underdog Wine Merchants, visit http://www.underdogwinemerchants.com.
For more information, visit http://www.OctavinHomeWineBar.com.
###