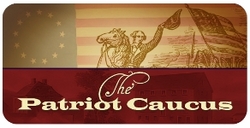 "The passage of the healthcare bill is a clear declaration of war against the free-market system, and the liberty of choice in America"
Las Vegas, NV (PRWEB) March 23, 2010
On Monday, March 21st, Liberty First PAC announced its plans for a full scale national grassroots voter campaign on a conference call of tea party activists. The emergency planning call was called for just minutes after the House passed government run healthcare legislation, and within hours had more than 1,100 activists RSVP.
The new project, called "The Patriot Caucus," is being organized to place activists in organizing roles across every county and precinct in the PAC's targeted districts. The PAC had a list of 21 states before the healthcare vote, and organizers said they were looking at adding another 15 states as a result of the outcome of the legislation passing the House.
Steven Foley, the Online Communications Director for the PAC, invited Dan Benishek, a Republican candidate running for Bart Stupak's seat in Michigan, to talk about the Stupak vote and what it means for the nation. The move signaled possible involvement in races that were previously viewed as less important than others as a result of the vote on healthcare.
"The passage of the healthcare bill is a clear declaration of war against the free-market system, and the liberty of choice in America," said Eric Odom, Chair of Liberty First PAC. Odom went on to say the organization of more than 75,000 activists would now shift its entire operation into campaign mode for the 2010 election cycle.
The Patriot Caucus, a project of Liberty First PAC, named several tea party organizers as its first group of State Chairs. The new state based leaders of the campaign effort include Keith Sipmann of Arizona, Dani Martin of Arkansas and Jeanie Backus Coates of New Mexico. This move sets in motion the development of the first three statewide efforts under the Patriot Caucus.
The Patriot Caucus intends to develop county and precinct coordinators across each state. The organization will then set up phone banks, organize door-to-door voter ID programs, and launch voter drive initiatives.
The audio recording of the national conference call is available for download.
http://thepatriotcaucus.com/audio/march22.mp3
Visit http://www.thepatriotcaucus.com for more information.
###