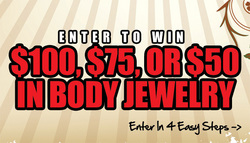 This contest will give us a chance to give back to the customers who have supported us.
Corona, CA (PRWEB) March 23, 2010
BodyJewelrySource.com, a one-stop online shop for ear gauges and body jewelry announced today the launch of its Youtube product review contest.
With the 1st anniversary of their website redesign launch approaching, BodyJewelrySource.com created the Youtube body jewelry review contest to acknowledge loyal customers and reward the top 3 reviewers. The contest encourages customers to share their shopping expirence and give a one of a kind honest opinion on the ear gauges they have purchased.
Entries should be uploaded to youtube and should include "http://www.bodyjewelrysource.com" within the description area by 11:59 pm EST on August 1st, 2010. The first prize winner will receive $100 gift card for free body jewelry of their choice. The second prize winner will receive $75 for free body jewelry and the third prize winner will receive $50 gift card for use on bodyjewelrysource.com. The winners will be announced on August 2nd, 2010 and will be posted on the BodyJewelrySource.com website as well as contacted via youtube.
"This contest will give us a chance to give back to the customers who have supported us through our growth," said Chris Grucelski CEO of BodyJewelrySource.com. "Many customers have expressed they are already pinching pennies with the current economic situation, this contest will definitely make 3 lucky customers anxious and excited about increasing their collection of ear gauges."
For complete details regarding the contest and how to enter please, click here.
BodyJewelrySource.com offers hundreds of different styles and types of body jewelry, including a wide variety of ear gauges. For any body jewelry need, BodyJewelrySource.com has the jewelry you need. With low priced shipping to USA and international orders, its one of the easiest and quickest ways to get your jewelry to your mailbox.
###