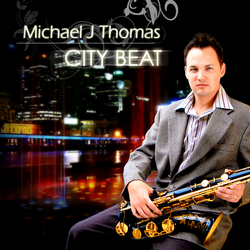 Thomas' innate ability to write infectious hooks in urban settings emerges to the fore on City Beat
Destin, FL (PRWEB) March 29, 2010
Destin, Florida: A humble small town boy from the land of country music is paving his own path with the release of his critically-acclaimed debut album of sweaty, sultry and saccharine R&B-pop gems. Cecilia, Kentucky native Michael J Thomas roared into March with his self-released CD, City Beat, which was warmly welcomed with rave reviews. On its day of release (March 2), City Beat peaked at #4 on the Amazon smooth jazz chart. The title track is presently #1 on Smooth Jazz Now's singles chart and is receiving spins on terrestrial and internet radio stations around the globe. Additionally, three tracks – "City Beat," "Amante Del Vino" and "Back Home" - are receiving regular airplay on the Weather Channel. Imagine what this one-man record label could accomplish with the backing of a major or a leading independent record label.
Raised on sumptuous helpings of R&B, funk and soul by icons such as Earth, Wind & Fire, Stevie Wonder and Prince, Thomas' innate ability to write infectious hooks in urban settings emerges to the fore on City Beat, for which he wrote or co-wrote nine songs. Much of the material on the record was inspired by eye-opening and perspective-altering visits to metropolitan meccas like New York City, Chicago, Los Angeles and Bangkok, which zestfully sparked Thomas' wanderlust. In the studio, he produced a live sounding collection with Shannon Wallace. Thomas, who played tenor, alto and soprano saxes on the tracks, had a crack band to help bring City Beat to life. The Best of the Emerald Coast winner in the "Best Musician/Vocalist/Band" category is anxious to take that band on the road.
Below are snippets from the numerous enthusiastic reviews City Beat has received thus far.
Smooth Jazz Therapy: "…'City Beat', which hits the streets on March 2, is a tremendously accomplished piece of work and, given that Thomas writes or co-writes all but one of ten choice tracks, proves also to be a wonderful showcase for his art… a tremendously commercial collection that has every prospect of doing very well… in terms of personal favourites there is much to commend the Michael J Thomas-Shannon Wallace arrangement of Michael Jackson's seminal 'Billie Jean'. Starting out slowly and quickly hitting a familiar beat this could well be one of the best covers of the year whilst just as good is the original composition 'Amante Del Vino'."
Soul Tracks: "His globe-trotting and love of the soul greats are what fed into the delectably-diversified mix found on his Harbor Street Records debut, City Beat, rich with mesmerizing melodies, pulsating beats and even a pinch of hip-hop. Backed by instrumentalists like bassist Eric Lampley, drummer Johnathan Davis and trumpeter Paul Scurto, Mr. Thomas co-composed nine of the ten tracks and conveys the emotions expertly…"
The Smooth Jazz Ride: "Saxman Thomas delivers on City Beat the kind of self-confidence and stand-up solid material that has ushered in so many of our smooth jazz greats today… Thomas obviously knows home when he sees it, as he's honed right in on smooth jazz like an old neighbor. With equal amounts of sway (the opening track, 'Midtown Manhattan,' and the title track) and respect for the genre (the soothing allure of the more mellow tracks), the artist thoroughly enjoys his seduction of this music. Stepping to pieces like his warm, hook-sweet tune called 'Wedding Song (Forever and Always)' and demonstrating why it should be the song in demand at all weddings, he then takes you on a bright, high-steppin' walk with '30-A Degrees.'… A big fan of catchy hooks, I couldn't help noticing the beauty of the mid-tempo 'Pretty Skin' and the slick and funky 'Mind Your Step,' with its own hot hook. In fact, the hooks throughout are full, catchy, and attractive."
Smooth Jazz Daily: "City Beat reveals Michael J Thomas' big talent as composer and sax player. We will certainly hear more of this blessed artist."
Additional information is available at http://www.michaeljthomas.net.
# # #