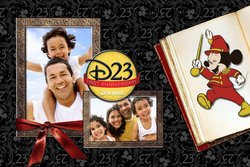 "Creative content from contributors like Disney's D23 is exactly what our members crave for their photo projects," said Jill Braff, CEO of Scrapblog
San Francisco, CA (PRWEB) March 23, 2010
Scrapblog™, the leading online service for social storytelling through photos, announced today that it has been named by Disney as "The Official Memory-Maker for Disney's D23." For the first time, Disney fans can get creative with one-of-a-kind Disney content for their scrapbooks, calendars, family trees, travelogues, yearbooks, fan tributes, greeting cards, and any other creations they make on Scrapblog.
D23: The Official Community for Disney Fans has tens of thousands of members in all 50 states and more than 30 countries worldwide. Disney fans can become D23 Members by visiting http://www.disney.com/D23.
Scrapblog users can decorate their online photo creations with unique stickers and backgrounds featuring Mickey, Minnie, and the classic crew, plus beloved Disney feature film characters like Ariel, Tinker Bell and the Mad Hatter. The content featuring these familiar Disney friends, and many more, can be found exclusively in the Scrapblog D23 store, at *http://www.scrapblog.com/builder/#/marketplace/store/40. In addition to its new Disney selection, Scrapblog has also created content that is available exclusively to D23 Members.
D23 themes full of charming character stickers and whimsical Disney-themed backgrounds are available immediately on Scrapblog, and there is much more magic to come in 2010. Also, Scrapblog will host a variety of creative contests with great prizes, including D23 Memberships and tickets to exclusive D23 events held throughout the year.
D23's distinctive and rare online treasures will be available in the Scrapblog Marketplace in three ways:

"General Admission" D23 stickers and backgrounds are available now and free for all visitors to Scrapblog by visiting *http://www.scrapblog.com/builder/#/marketplace/store/40. General Admission features several designs of the official D23 logo and ink-drawn character sketches of favorite Disney characters including Mickey Mouse, The Mad Hatter, Jiminy Cricket and more.
The "Members Only" area, a premier destination on Scrapblog that can be accessed only by D23 Members, hosts the other two types of D23 content:
"Free for D23 Members." Featured content includes D23 Expo logos as well as many beloved Disney character sketches and special backgrounds, some of which will be available for only a limited time. This collection will grow over time to include a wide selection of sketches of Disney characters including Mickey Mouse, Chip 'n' Dale, Dopey, Baloo from The Jungle Book, and Ariel; and characters from Cinderella, Aladdin and Monsters Inc., just to name a few.
"Premium" paid assets, which can be purchased by D23 Members with Scrapblog credits, include D23 First Anniversary logos and stickers and backgrounds of full-color character sketches of Donald Duck, Tinker Bell and other favorites.
A number of D23 themes, stickers and backgrounds will also be available on Share the Love, Scrapblog's recently launched Facebook application. Share the Love instantly arranges a user's Facebook photos into a unique photo collage that can be easily shared with friends and family.
"D23 is always looking for new ways to give our members the kinds of unique Disney experiences they crave, and there's no better way to create lasting memories of their favorite D23 events and special moments than through this wonderful new offering from Scrapblog," said Steven Clark, head of Disney's D23.
The Scrapblog store featuring D23 content joins over 30 branded stores living in Scrapblog's virtual Marketplace. Users can create digital photo creations for any event or occasion with Scrapblog's plentiful stickers, backgrounds, and themes. Now that recent family trip to a Disney destination is no exception.
"Creative content from contributors like Disney's D23 is exactly what our members crave for their photo projects. We strive to provide our users with the widest variety of digital storytelling content in our virtual goods Marketplace. With this popular and rare D23 content in our Marketplace, our members can now enhance their Disney photo stories like never before," said Jill Braff, CEO of Scrapblog.
About Scrapblog, Inc. Scrapblog, a leading online service for social storytelling through photos, provides a drag-and-drop easy way for users to create and share rich narratives using their photos. Funded by Steamboat Ventures and boasting over two million users to date, Scrapblog features a robust virtual goods marketplace that offers high-quality original content as well as content from marquee partners such as Disney. With no software to download, seamless integration with and applications for social media sharing sites, and high-quality printing options, Scrapblog is a fun, easy way for users to extend their digital photos.
About D23
The name "D23" pays homage to the wonder and excitement that began in 1923 when Walt Disney opened his fledgling studio in Hollywood. D23 is the first official community for fans in Disney's 85-year history. D23 gives its members a greater connection to the entire world of Disney by placing them in the middle of the magic through its quarterly publication Disney twenty-three; a rich website at http://www.disney.com/D23; a collectibles line, The Walt Disney Archives Collection; and special events for D23 Members throughout the year. Fans can join D23 at http://www.Disney.com/D23, select shops at Disneyland® Resort and Walt Disney World® Resort, and http://www.DisneyStore.com/D23.
©2010 Disney and Scrapblog Inc.
Media Contact
Stephna May, Dig Communications*
Scrapblog [at] digcommunications.com
415-367-4102
*Dig Communications is in no way affiliated with The Walt Disney Company.
###