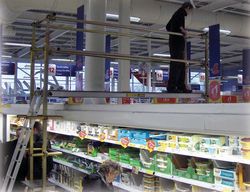 The most versatile, easiest to use, labor saving, advanced scaffold system on the market
(PRWEB) March 25, 2010
In the midst of the current recession a small British company that faced bankruptcy seven years ago has won its largest ever single order.
When Robert Bokros, a successful IT entrepreneur, bought a controlling interest in a company holding patents on a 21st century version of scaffolding in 2002 it had a turnover of just £30k and faced financial ruin.
The groundbreaking order is supplying 340 sets of Lobo to Walmart - Asda, the major American-British supermarket group. One system will be based at each of their UK stores, providing safe overhead access for servicing chiller cabinets.
Today Lobo Systems supplies £1 million worth of systems to organisations around the globe as diverse as NASA, for maintenance work, and the Museum of Fine Art in New York to reach and restore priceless works of art.
"We can now add Walmart Asda supermarkets to that customer list," says a delighted Bokros. "The huge benefit it offers in retail is speed of erection and versatility. It is the modern solution to the challenge of working safely at height."
The Lobo platform system provides access to virtually any piece of ground-based equipment. Because of its patented clamping system, it is erected by non-specialists without the use of any tools. It is made up of trestle legs varying in size, all fitted with adjustable bracing clamps. It is insurance company approved for safe working up to heights of 10 metres.
"Traditional scaffolding is massively expensive; once in position it cannot be moved around and can only be erected and dismantled by skilled personnel," said Derby based Bokros. "Lobo overcomes all of these problems. It can be built anywhere and literally threaded between pipe work to provide safe access to equipment. It can be erected by anyone in the maintenance department and we provide all the necessary training on-site.
"The most recent enquiry we have received is from the USA where it will be used in all the 57 courts in a major city so that the maintenance department can wheel it in to change light bulbs and generally clean the high ceilings. It is fabulously flexible."
Major worldwide customers include Boeing, Ford, Nasa, Miller Brewing, General Motors, Airbus and Sikorsky Aircraft.
It is used by the US Navy to service its T48 training jets based at the 'top-gun' school in Kingsville, Texas. The British Prime Minister's office bought Lobo to help with security at the G8 summit in Scotland.
"All of our customers report one thing in common - Lobo saves them masses of money. Traditional scaffolding takes a long time to erect and you start paying from the moment that process is finished until they come back and take it down.
"With working at height regulations now in force in all major markets and scaffolding having to be provided where it is deemed necessary for safety. The actual job may be very quick and simple, like changing a light fitting, but the scaffolding costs weigh it down like a brick. This is why our system is proving so popular around the world," added Robert Bokros.
###