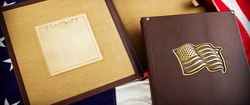 Tampa, FL (PRWEB) March 25, 2010
Over a year ago, Michael Niemis, the creator of Opus Americana, was inspired to give testament to the historical events, founding fathers and founding principles of the United States of America. This inspiration led to the creation of Opus Americana--a new book honoring the Founding Fathers, our founding documents and symbols that make America the greateset nation on Earth.
Armed with skills as a professional graphic designer, experience as a former U.S. Marine, and a passion for detail, Michael developed the collection from the front cover to the back. He wanted the material to represent everything that makes America remarkable, while imparting the dignity and respect that these men and documents deserve. He spent the entire last year and his life savings to create a masterpiece collection to pay tribute to the establishment of this great country.
From the printing to the binding, Opus Americana is made in America. "Every book sold gives an American a job," Michael stated in a recent television interview. "It is important that, when you have a book about America, it be made in America." His goal is to inspire Americans and future generations to remember what makes America the greatest and freest nation on Earth. "Opus is designed to be passed on from generation to generation, to remind them of sacrifices made, so that we may never forget. It is an heirloom of unparalleled quality and workmanship in the literary industry."
On March 11, 2010, Opus Americana debuted to the American public on national television, showcased on Fox and Friends, in relation to the Texas textbook controversy. As stated in the interview, Michael desires to help the U.S. Constitution and other founding documents to be cherished and preserved for future generations.
Citing such inspirations as Thomas Jefferson, George Washington and John Adams, Michael poured his heart and soul into this endeavor. This book illustrates the history that paved the way for the first free and representative form of government the world has ever known. Featuring specific yet easy to understand details, Opus Americana is designed for anyone who is proud of what our country represents. It is a timeless tribute for those who have served and dedicated themselves for the cause of freedom.
Opus Americana is a memorable gift for all Americans, including current serviceman, veterans, teachers, parents, grandparents, children and grandchildren. Offered in two different editions - Standard or Magnus - and two color palates, the collection may be personalized with an engraved plate inside the front cover for an additional cost.
This new collection, Opus Americana is only offered online at http://www.opusamericana.com.
Interview Contact:
Michael Niemis
President/Founder of Opus Americana
Opus Americana
Telephone: 813-774-6621
###