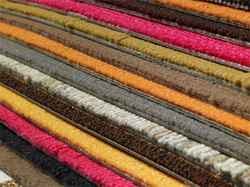 We're 10 years out from making business history, a vision that no one would have imagined for this little carpet company of ours
Atlanta, GA (Vocus) March 24, 2010
"To be the first company that, by its deeds, shows the entire industrial world what sustainability is in all its dimensions: People, process, product, place and profits — by 2020 — and in doing so we will become restorative through the power of influence."
That's the Mission Zero commitment at Interface, Inc., and it includes ambitious goals to eliminate the company's negative environmental footprint by 2020. The company is now 10 years from that goal, and is launching a yearlong look at its EcoMetrics™, assessing progress and creating a vision for what success looks like. First up is the release of the company's most recent waste reduction and re-materialization metrics.
"We're 10 years out from making business history, a vision that no one would have imagined for this little carpet company of ours," said Dan Hendrix, CEO of Interface, Inc. "More importantly, we have nearly 16 years of data to use in understanding our progress and evaluating where we need investment, where we need innovation, and where we'll be focusing people and resources as we look to 2020 and beyond."
Interface has described sustainability as a mountain climb, and charts its progress up the seven fronts of that mountain, an analogy referring to the need to innovate and make progress on various initiatives simultaneously. Front 1, Waste Elimination, refers to eliminating all forms of financial and process waste – everything from the cost of order errors to landfilled scrap. Closely related is Front 4, Closing the Loop, which refers to the redesign of processes and products to close the technical loop using recovered and bio-based raw materials. For the year 2009, the company announced that globally:
In the physical waste category, of the over 400 million pounds of raw materials purchased in 2009:

3.4 million pounds of waste (less than 1%) went to landfills, compared to 15 million pounds in 1996; a 77 percent reduction
6.9 million pounds of raw material were recycled to be re-used again
9.6 million pounds of waste was sent to energy recovery as a use of last resort.
Continued savings from the QUEST program, the employee-driven "Quality Utilizing Employee Suggestions and Teamwork" initiative that rewards employees who identify and then reduce all forms of waste, has netted the company $433 million in cumulative, avoided costs since 1995.
Through the company's reclamation and recycling initiative, ReEntry® 2.0, 25 million pounds of reclaimed carpet and post-industrial carpet scrap was diverted from the landfill in 2009, bringing the total global material diverted to 200 million pounds since 1995. ReEntry 2.0 is illustrated in this video, and contributes to high recycled-content products like the Convert™ line from InterfaceFLOR®.
Putting those metrics into perspective, Vice President of Sustainability Erin Meezan said: "These numbers indicate that we are headed in the right direction. Looking ahead, we will have to be even more collaborative, reaching further and wider into our supply chain to forge partnerships like the one we have with our yarn suppliers, who have partnered with us on ReEntry 2.0 and Convert.
"We will also take what we have learned with ReEntry 2.0 and multiply it into a robust reverse logistics operation, closing the technical loop and perhaps creating new markets for ourselves with excess yarn and vinyl feedstock."
CEO Dan Hendrix added: "What the March to 2020 requires is that we act even more like a global company, rapidly replicating the successes we have in one market to every market, when that is the right thing to do in terms of sustainability and the local business."
Interface will release additional metrics in the coming months, culminating with a Sustainability Report to be published later this year that will detail the company's plan to get to 2020.
Interface, Inc. (IFSIA) is the worldwide leader in design, production and sales of environmentally-responsible modular carpet for the commercial, institutional, and residential markets, and a leading designer and manufacturer of commercial broadloom.
###