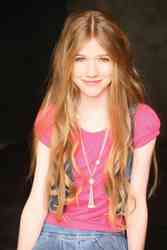 " I'm so excited! It was so much fun to participate in this contest, and I can't wait to bring Mackenzie to life for all of her fans!"- says Katherine.
Voorhees, NJ (PRWEB) March 24, 2010
After six months, 50 contestants, and 2 million votes, Katherine McNamara was selected to star in the webisode series Mackenzie Blue. Tina Wells will loosely base the web show on the book series Mackenzie Blue. In the series, Mackenzie, aka Zee, keeps a diary where she writes her deepest thoughts and feelings. The web show will be shot "documentary style," as a video diary.
"Any of our finalists would have been perfect for this role. But there was something very special about Katherine," says Tina Wells. "I believe that the fans of the series will truly embrace her as the live-action version of a character they've grown to love. I'm excited for Katherine, and I hope this is another step in her already bright career."
The series will begin airing via YouTube this summer, just in time for the June release of the third book in the series, Friends Forever? For more information on Mackenzie Blue, please visit the official site at http://www.mackenzieblue.com.
About Milk & Honey Media
Milk & Honey Media is a media company specializing in publishing, licensing and development of properties targeting tweens, teens, and young adults.
###