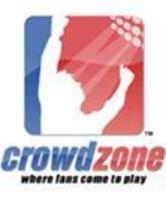 CrowdZone enables sports fans to never miss a game, and experience the crowd wherever they are. And for those fans that do attend the game, CrowdZone will make the experience more memorable.
Las Vegas, NV (Vocus) March 24, 2010
Whether at the stadium or at home, now sports fans can use their iPhones to connect, interact and enjoy major league and NCAA games in a whole new dimension. mobiTeris, Inc., a Sunnyvale, California based company led by startup technology veterans, today launched its new mobile platform http://www.crowdzone.com]CrowdZone. CrowdZone is the world's first "mobile crowd network" that allows fans everywhere to use their iPhones to connect with each other and with their favorite teams.
As the crowds gather, CrowdZone comes alive around sporting events to feed consumers' insatiable appetite to use their mobile devices to enhance their entertainment experience. Through CrowdZone, teams can also connect with their fans everywhere and tap into the crowd network. Among the first professional teams to utilize CrowdZone is the Carolina Hurricanes. The Hurricanes are promoting CrowdZone as part of its "big league" debut with focus on specific games that started March 21st.
"Attending games is a challenge for many sports fans due to factors of cost, time and distance," said mobiTeris co-founder and CEO Murgesh Navar. "CrowdZone enables sports fans to never miss a game, and experience the crowd wherever they are. And for those fans that do attend the game, CrowdZone will make the experience more memorable."
The latest in the evolution of social media technologies, CrowdZone is the first social network specifically designed for crowds. It provides a fun, easy and free way for sports fans to engage in their passion around sporting events. All major league and NCAA games are accessible via the CrowdZone network.
A mobile crowd network allows fans to:

Check out all assembling crowd zones; ex: sporting events
Check into multiple crowd zones (games) of interest
Find in-the-stadium friends based on their physical location
Share comments and pictures with the crowd
Share thoughts with the team, and alert security when needed
Participate in "fan activities" such as leading cheers, waves or shout outs
Make new friends in the crowd
Earn activity points to win prizes or earn a spot of honor on the leaderboard
Achieve official "Crowd MVP" status for each event
CrowdZone protects users' privacy and security. User identifiable personal information such as email is not available to the general public. Fan profiles and crowd activities are public, but users can select a nickname or other non-identifiable profile names if they wish.
Benefits for Teams, Leagues and Stadiums
Teams can leverage a CrowdZone network to identify and message influential and peripheral fans independent of the fans' location. With a more personal connection, teams can encourage influential fans to attend the games in-the-stadium along with their friends more often. Teams can also address peripheral fans that may hold the "veto" vote within their social group.
CrowdZone provides a channel for teams to engage in commerce with their fans around virtual and real-world goods. CrowdZone's real-time analytics, generated from crowd behavioral and location data, provides teams with unprecedented insight, and opportunities to reduce wastage such as unsold tickets while opening up new revenue opportunities.
CrowdZone will make its "big league" debut at the NHL Carolina Hurricanes games on March 21st, 23rd and 25th. The Hurricanes will promote the CrowdZone app to their fans through television and radio ads as well as on their Web site, Facebook and Twitter fan channels. CrowdZone's turnkey solution comes with a WiFi network in the parking lots to encourage Hurricanes tailgaters to download the CrowdZone application and "join the crowd.
"We are very excited to launch CrowdZone at the RBC Center for the Carolina Hurricanes. CrowdZone allows us to improve the in-venue fan experience as well as connect with our fans at home. The platform allows fans to participate in the game experience and connect with each other in ways they never could do before. We can send actionable messages to these phones to interact with fans in real-time, activate sponsors and ultimately encourage fans, who are watching at home to buy tickets to future events," said Dave Olsen, vice president and general manager of the - RBC Center (Carolina Hurricanes – NHL).
"The game experience at home is getting better and better with HDTV, comfortable couches and home cooked snacks but a huge part of experiencing sports can't be replicated from your couch and that's being part of the crowd," said Todd Sullivan, co-founder and VP of business development for mobiTeris. " It's not only a blast to cheer alongside other fans in a stadium, but a great crowd can influence the momentum and outcome of a game. CrowdZone lets you share the excitement of being at a game with your friends who are at home and allows teams to engage with fans, no matter where they are, in a way that just can't happen through TV."
About mobiTeris and CrowdZone
mobiTeris was founded in 2009 with a vision to enhance the daily lives of consumers through mobile solutions. CrowdZone is our first premier application platform dedicated to providing a new way for people to engage in their passion around sporting events. mobiTeris is located in Sunnyvale, California. Follow us on Twitter @CrowdZone.
# # #