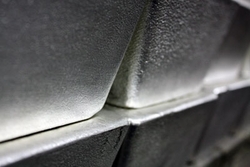 Silver is a very effective inflation hedge...probably the best investment in the world right now...
(PRWEB) March 24, 2010
World-leading gold ownership service BullionVault.com today announces the addition of silver bullion to its popular online exchange.
Launched in response to customer demand, BullionVault's new silver service dramatically reduces the cost to private investors of physical dealing and ownership.
BullionVault already stores US$660 million-worth of gold bars (£439m, €484m) on behalf of 16,500 customers worldwide. Its award-winning online exchange enables private individuals to buy and sell ownership of that physical gold, setting their own price in open competition.
Now the London-based company is offering new users a free ounce of physical silver – stored securely in specialist market-approved vaults – so they can "test drive" its award-winning precious metals exchange for themselves.
Go to: http://silver.bullionvault.com
Silver trading and ownership at BullionVault is free from VAT sales tax, removing a big expense for UK and European users.
Mr. J. Mann of Berkshire, UK – an existing gold owner through BullionVault – says:
"I think silver is probably the best investment in the world right now. It's a very effective inflation hedge. I had wanted to invest in silver, but didn't want to store it in the bank or at home. I bought it as soon as I learnt that BullionVault was offering it."
Precious metals analysts surveyed by the London Bullion Market Association (LBMA) recently forecast on average a 12% rise in silver prices for 2010. Some experts said they expect a 77% spike.
Currently trading around US$17 an ounce, world silver prices peaked above US$50 an ounce in 1980. Fears of rising inflation – plus the threat of a sovereign debt default – have once again seen a growing number of private investors turn to precious metals ownership.
BullionVault founder and CEO Paul Tustain says:
"Just as with gold, private investors have lacked a safe, low-cost route to physical silver dealing and ownership. Our customers wanted a similarly easy and secure way to buy, own and sell silver, without being charged high fees."
BullionVault users trade gold and silver directly with each other, buying and selling from one gram of metal (current price $0.56, £0.37, €0.40) upwards.
All customer property is stored inside secure, professional vaults, retaining the bullion's maximum re-sale value in the form of large, warranted Good Delivery bars – the standard unit of the professional wholesale market, centred in London.
The only member of professional trade-body the London Bullion Market Association dedicated to private "retail" investors, BullionVault was launched in April 2005. It became the world's largest store of privately-owned investment-grade gold in 2008.
BullionVault received a Queen's Award for Enterprise – the UK's most prestigious business award – in 2009.
For more information, go to http://silver.bullionvault.com
Notes to editors
1. About BullionVault
BullionVault.com is today the world's leading online service for gold bullion trading and ownership. More than 16,500 people from 83 countries use BullionVault to own and trade physical gold, benefiting from direct access to live "wholesale" pricing and cost efficiencies. BullionVault is the only member of the LBMA dedicated to private investors.
Launched in April 2005, BullionVault now stores over 18 tonnes of gold, more than most of the world's central banks. Every ounce is owned privately and stored in the accredited professional bullion market vault of the client's choice of London, Zurich or New York.
BullionVault users trade gold directly with each other, peer-to-peer, setting their own price in open exchange. There is no minimum investment and users can deal as little as one gram at a time, currently worth $36 (£23; €26).
The service is most efficient from around $3,000 (£2000; €2,500) up to $10 million, above which a customer might consider arranging the wholesale dealing, storage and insurance facilities which BullionVault shares with its users directly for him or herself.
Around half of BullionVault's client-base lives in the UK. They own 33 ounces of gold on average, currently worth £24,000 ($36,500; €26,500).
For more information please visit: http://silver.bullionvault.com
2. About the Case Study
If you would like to speak to Mr. J Mann or other BullionVault customers, please contact BullionVault via their website.
3. About the Queen's Awards
The Queen's Award for Enterprise in the Innovation category was conferred on BullionVault in April 2009 for enabling private investors to access the cost-savings and safety of the professional wholesale gold bullion market.
The Queen's Awards for Enterprise are the UK's most prestigious Awards for business success. Established in 1966, there are now four categories of Queen's Awards – three for business success (International Trade, Innovation and Sustainable Development) and one for individual achievement in encouraging UK entrepreneurship (The Queen's Award for Enterprise Promotion).
###