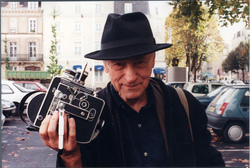 From April 1st the audience will have a chance to see all the selected films online for free and vote form them (awarding the Audience Prize this way). The jury will also make all their actions online by voting and discussing the films in our chat on Apri
(PRWEB) March 24, 2010
DotFest — INTERNATIONAL ONLINE SHORT FILM FESTIVAL was created to present and reward the very best in international independent short filmmaking. DotFest is a competition among filmmakers in which best short films will be selected for screening during the festival via the internet and awarded by an expert jury and the audience.
These fine gentlemen honored festival by agreeing to be on the jury list: Jonas Mekas — the godfather of American avant-garde cinema, Jean-Gabriel Periot — French film director, and Nag Vladermersky — a person behind the London International Animation Festival and co-director of the Melbourne International Animation Festival.
Very soon they will get their hands on the films in the competition (around 40 films out of 400 submitted) divided into 4 categories: fiction, animation, experimental and music video. And it will all end up by awarding 10 000 euro prize fund.
From April 1st the audience will have a chance to see all the selected films online for free and vote form them (awarding the Audience Prize this way). The jury will also make all their actions online by voting and discussing the films in our chat on April 18th.
And the voting and discussing the programs might get quite tough because there are some big names on the list which will make any decision a challenge: Thorsten Fleisch, Thomas Hicks, Nacho Vigalondo and Ilya Kolesnokov! And it's only the beginning!
The festival is organized with the great help of our partner movielocker.com, a free video hosting site with DRM protection, where the viewers can watch your video, but not distribute it in any way. And still... all you need is to be online!
# # #