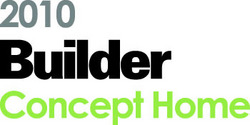 Washington, DC (PRWEB) March 24, 2010
The Builder Concept Home 2010: A Home for the New Economy, an exclusively online virtual reality tour presentation from B2B publisher Hanley Wood LLC, has attracted more than 16,000 unique visitor registrations and more than $600,000 in revenue, making it the largest and most successful web-based event in the home building industry to date.
"As a B2B lead-generation event, The Builder Concept Home 2010 accomplished in 6 weeks what would typically take a year—and a series of 10 events—to accomplish," said Salvador Fuentes, CEO and President of Decision Counsel, which drove the development of the user experience. "The Builder Concept Home 2010 virtual event resulted in at least 5 times as many visitors and sign-ups as an average B2B online event."
The Builder Concept Home 2010: A Home for the New Economy features a photo-realistic virtual tour of a 1,771 square-foot virtual house that represents a dramatic shift in how homes are designed, built, maintained, and lived in.
The virtual tour at builderconcepthome2010.com optimized Web-based technology to deliver a rich media experience, interactive self-education opportunities, and the physical environments of a house in 3D, while giving visitors complete control of the how they engage the presentation. As a result, visitors to the project's landing page spent an average of nearly 7 minutes, and more than 25 percent of visitors registered to tour the virtual house.
Launched at the 2010 International Builders' Show in January, The Builder Concept Home 2010 enjoyed more than 9,000 visitors—including 3,268 who toured the house online (a 36% conversion rate, far exceeding industry norms)—during the four-day annual conference and trade show. Within seven weeks, almost 43,000 unique visitors had come to the landing page and of those, 15,324 people had registered to take the home tour, maintaining the launch's impressive conversion rate and average time spent on the site (6 minutes, 48 seconds) while viewing more than 20 pages.
"This virtual event was a win-win for the 27 sponsors of the Builder Concept Home 2010 and for Hanley Wood," said Warren Nesbitt, executive director of the Residential New Construction division of Hanley Wood Business Media. "We've had at least 5 times as many people tour this home as have ever toured one of the show homes we've actually built for the Builders' Show, and we've exceeded our goal of registered visitors by 50%, making our sponsors very satisfied with their participation."
"This virtual event shows innovation on many levels," Fuentes said. "Hanley Wood not only created a great editorial product for its readers, but also satisfied sponsors and showed innovation in an industry that is hurting now. For sponsors, they showed a willingness to migrate dollars from a physical product or donation to a virtual event."
The Builder Concept Home 2010: A Home for the New Economy was designed by Marianne Cusato and is a model of adaptability, sustainability, buildability, and livability for the current housing economy and its future. The 4-bedroom, 3.5-bath home is cost-efficient to build, yet classically detailed. The Web site and tour: http://www.builderconcepthome2010.com is open to building industry professionals, consumers, and the media through June 30, 2010.
About Hanley Wood
Hanley Wood, LLC, is the premier media and information company serving housing and construction. Through four operating divisions, the company produces award-winning magazines and Web sites, marquee trade shows and events, rich data and custom marketing solutions. The company also is North America's leading publisher of home plans. Hanley Wood Business Media (Washington, D.C.), publishes more than 30 award-winning residential and commercial construction titles, including BUILDER, REMODELING, CUSTOM HOME, and residential architect. Hanley Wood Business Media also offers the construction industry's foremost collection of Web sites, including BUILDER ONLINE, REMODELING ONLINE, and ebuild, the comprehensive online guide to building products, as well as the largest collection of house plans online through eplans.com and Dream Home Source.
Founded in 1976, Hanley Wood is one of the 10 largest B2B media companies in the United States. Hanley Wood is owned by affiliates of JPMorgan Partners, which uses CCMP Capital Advisors to manage this investment.
About Decision Counsel
Decision Counsel empowers companies by facilitating intelligent decisions about marketing strategy, utilization of web technology and application development. A strategic professional services firm that develops and executes marketing and technology solutions centered on building brands, leveraging emerging technology and building sustainable customer relationships, Decision Counsel ensures that the programs, campaigns and products they introduce reach optimal velocity in the shortest amount of time. http://www.decisioncounsel.com
About Marianne Cusato
Marianne Cusato is well-known for her design work on the Katrina Cottages, now sold in kit form at Lowe's home centers nationwide. In 2006, her 308 s.f. Katrina Cottage won the Smithsonian Institute's Cooper-Hewitt Design Museum's "People's Design Award." In June 2006, Congress appropriated $400 million for an alternative emergency housing program, based on the idea of the Katrina Cottage. Cusato is the author of two books: Get Your House Right: Architectural Elements to Use and Avoid, with Ben Pentreath, Richard Sammons and Leon Krier, foreword by HRH The Prince of Wales (January 2008, Sterling Publishing) and The Value of Design (February 2008, James Hardie). http://www.mariannecusato.com
About BHI Media
BHI Media is a full-service production company offering turnkey script-to-screen production of a wide range of Rich Media products. The company was formed in 2005 by a consortium of some of the nation's top new home builders for the sole purpose of creating a high-quality, low cost television alternative for marketing their products. Based on the success of that effort, BHI Media grew to encompass a wide range of production services and soon expanded outside the building industry to create projects for anyone, anywhere in the world. http://www.bhimedia.com
# # #