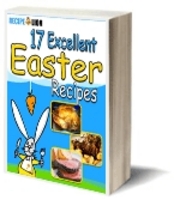 Northbrook, IL (PRWEB) March 25, 2010
With Easter being such an important food holiday, it is important to have a collection of Easter recipes to help make the holiday particularly wonderful. The Editors of RecipeLion have published a new eCookbook, 17 Excellent Easter Recipes, that aspiring cooks and professional chefs alike can download for free.
According to a recent study conducted by the Barna Group exploring how Americans define the Easter holiday, 67% of those polled said that they do consider it to be a theistic, religious holiday. While that may be the case, fewer identify Jesus' resurrection as the meaning for the holiday. Many people consider it to be more of a "get together with family" holiday, rather than a religious one.
Considering that family is such a wonderful reason to get together for any holiday, it makes perfect sense to cook a meal. Whether menu choices are expected to include great Easter brunch ideas, Easter dessert recipes, or the best ever Easter dinner recipes, the 17 Excellent Easter Recipes free eCookbook provides a wealth of resources. This eCookbook features traditional Easter family favorite recipes such as Easter Ham with Peach Glaze, fun dessert recipes like Chocolate Cream Easter Eggs, Blue Peep Pie, and more.
To download the free eCookbook, 17 Excellent Easter Recipes, go to http://www.recipelion.com/Easter-Recipes/17-Excellent-Easter-Recipes-Free-eCookbook .
###