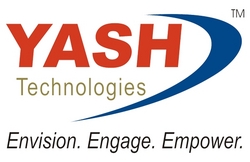 Woburn, MA (PRWEB) March 25, 2010
In response to a growing customer base in the high-tech manufacturing segment, YASH Technologies, a leading technology services and outsourcing partner for global companies, recently launched ManufacturingOne, a qualified SAP Business All-in-One partner solution. Designed for small and midsize enterprises (SMEs), this fully integrated, pre-packaged ERP solution, can be implemented quickly--in a matter of weeks--to boost productivity, reduce costs, and enhance competitive positioning in a demanding market.
As high-tech manufacturing companies are challenged to collaborate effectively with business partners to quickly and accurately forecast, plan and respond to ever-changing market demands, ManufacturingOne meets the needs of an affordable, ready-to-operate ERP solution. SAP Business All-in-One partner solutions are qualified by SAP and developed, sold and supported by SAP channel partners as a defined-scope implementation with consulting services, and offer the flexibility to accommodate the unique business needs of each customer. ManufacturingOne is a preconfigured, industry-specific version of the SAP ERP application combined with SAP Best Practice offerings, enabling streamlined operations, lower costs and a proven path to growth. It allows full, real-time information integration for complete control of business operations, including financials, sales processing, procurement, materials and inventory. ManufacturingOne delivers a comprehensive set of business functionalities with little or no customization required. This means minimal disruption to daily operations during installation, and maximum return on investment.
ManufacturingOne is a robust solution that incorporates features designed to address key business process areas, including:

Product Development: Engineering Change Management and Internal Product Development
Supply-to-Market: Consumable Purchasing, Serial Number Management, Logistics Planning, and QM for Procurement with Vendor Evaluation
Service Management: External Procurement Services, and Service Contract with Periodic Billing
Quote-to-Cash: Lean Warehouse Management, Sales Quotation, Customer Consignment Processing, and Foreign Trade Export Processing
Enterprise Management and Support: Financials, Analytics, and Corporate Services
A full list of features and benefits can be found at http://www.yashsap.com.
To further support the high-tech manufacturing industry, YASH has created extended industry-specific features for ManufacturingOne. Built into the solution itself, high-tech manufacturing companies have the ability to activate the functionalities to meet their unique business needs. These innovative features include: Bar Code Generation; Legal/Management Reporting; Parallel Accounting; Salesforce Integration; and Reverse Subcontracting.
To dramatically accelerate project implementation cycles, YASH Technologies incorporates its
S-Imple methodology that focuses on design by exception and leverages pre-packaged industry business scenarios. Rather than spending valuable time and money defining and configuring standard business processes, ManufacturingOne implementations that utilize the S-Imple methodology dramatically reduce development and testing cycles, focusing on data cleansing and conversion, and involve stakeholders throughout the entire phase of projects via playback sessions. These sessions allow users to instantly see a business scenario and make custom changes to fit the business requirement, facilitating knowledge transfer and end-user learning.
"With ManufacturingOne, SMEs can compete with larger organizations," said Abe Iruegas, vice president of solutions and services at YASH. "ManufacturingOne can be implemented quickly, with predictable costs, risks, and project durations. While it can also scale to meet the unique needs of larger businesses, organizations, no matter the size, are assured that this solution can achieve objectives of improved growth, lower costs, and better visibility into their operations."
ManufacturingOne is the latest qualified SAP Business All-in-One partner solution developed by YASH. Other comprehensive solutions include; ChemOne, TechOne, WholesaleOne and CPGOne.
For more information please visit http://www.yash.com or email info(at)yash(dot)com.
About YASH Technologies
YASH Technologies focuses on customer success. As a leading technology services and outsourcing partner for medium and large global customers, we leverage technology and our flexible delivery models to drive performance and business value throughout a customer's enterprise. YASH's comprehensive service approach incorporates a holistic view of our customers that extends beyond delivery. This approach integrates enterprise solutions and services, proprietary best practice offerings, strategic application and maintenance outsourcing, as well as consulting and integration services. YASH is a SEI CMMI (Level 3) and an ISO 9001:2000 certified company with U.S. and India headquarters and regional sales and development offices spread across three continents. For more information, please visit http://www.yash.com or email info(at)yash(dot)com.
SAP and all SAP logos are trademarks or registered trademarks of SAP AG in Germany and in several other countries.
All other product and service names mentioned are the trademarks of their respective companies.
# # #