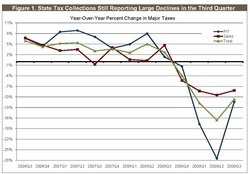 States do want to reduce the burden of tax compliance – especially for multi-state retailers.
Portland, OR (PRWEB) March 31, 2010
In an effort to help small-to-medium, multi-state businesses understand the Streamlined Sales Tax Agreement (SSTA), STS Publishing, LLC has worked with sales tax software vendor SpeedTax, Inc. and the Streamlined Sales Tax Governing Board, Inc. (SSTGB) to provide the Streamlined Sales Tax (SST) content section in Sales Tax Support (see http://www.SalesTaxSupport.com)
In order to understand the appeal of the SSTA, first consider the complexity of the sales/use tax compliance process. This task can be a particular challenge for companies active on a multi-state basis. Why? A company's filing obligations are not limited to the 46 states that currently have a sales tax. Local jurisdictions (including cities, parishes and even fire districts) can also levy a sales tax. Once all state and local jurisdictions are factored, over 10,000 taxing authorities can be involved.
Changing rates and forms are an obvious concern, but then consider that taxability decisions as well as product definitions can vary by jurisdiction. The compliance challenge becomes even greater in an economic downturn when many states look to sales and use tax to make up for revenue shortfalls. That can lead to an even greater number of rates and rules changes.
"States do want to reduce the burden of tax compliance - especially for multi-state retailers," said Scott Peterson, Executive Director of the Streamlined Sales Tax Governing Board. "SST member states hope to accomplish that with a more streamlined sales tax administrative process which relies upon tax law simplification, more efficient administrative procedures, and use of emerging technologies." According to Peterson, an additional goal is to level the playing field so that "brick and mortar" stores and remote sellers operate under the same rules.
However, while the promise of more simplified compliance process is very appealing for multi-state companies, the SSTA's goal to "level the playing field" requires that registered companies start filing sales tax returns in all SSTP full member states (20 currently) - even if they do not have any activity or presence in those states.
So if sales tax simplification may increase compliance activities for some companies, how do they decide if it's the right move for them? To help answer that question and others, the Streamlined Sales Tax (SST) section was created in Sales Tax Support, a unique web portal designed to be a one-stop hub for state and local sales/use tax information. "There was a real need for this information" according to Susan Jaeger, the site's publisher. "There's much confusion about the SSTA. We wanted to make it fast and easy for multi-state companies to understand what Streamlined Sales Tax is - and if it makes sense for them."
In order to deliver that educational content to the site's small-to-medium business audience, Jaeger enlisted the support of SpeedTax, a leading vendor of sales/use tax solutions and one of only four SST certified solution providers.
"Our ongoing goal in maintaining the SST content in Sales Tax Support's website is to give businesses mission-critical information on SST in an easy-to-understand format, in addition to allowing companies and individuals to ask specific questions about SST and get an accurate, prompt response," said Cory Barwick, Director of Compliance at SpeedTax. "Today's announcement is good news for companies that need 'just the facts' explanations of how SST participation may benefit their overall business health."
Written in a direct, easy-to-follow style with helpful examples, the SST material helps to make sales tax more simplified - even for those with limited sales tax experience. In addition to the SST section in Sales Tax Support, users can also find other educational content, product and service provider directories and a sales/use tax job board. The sales tax focus differentiates SalesTaxSupport.com from most other tax portals, as does the fact that users have free access to all content.
About STS Publishing, LLC
STS Publishing, LLC owns and operates SalesTaxSupport.com, the nation's most comprehensive free sales/use tax resource for small-medium size businesses. Visit the Sales Tax Support website or call 1-888-334-3944 for more information.
Find us online:
Twitter: http://www.twitter.com/SalesTaxSupport
Linkedin: http://www.linkedin.com/in/salestaxsupport
About SpeedTax
SpeedTax is an easy-to-use, affordable and technologically advanced Software-as-a-Service sales tax solution. SpeedTax helps businesses of all sizes to accurately and affordably outsource the most tedious, repetitious and time-consuming aspects of sales tax compliance - researching, calculating, posting, reporting and remitting sales taxes - while simultaneously acquiring the ability to better manage their business via online, real-time access to sales tax data. For more information, visit http://www.speedtax.com, or call us at 888.349.2441.
# # #