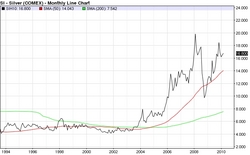 "For more than a year now, silver has been performing in positive moves as a result of increased demand and the weakening of the US dollar. But the fact is now that gold and silver are acting as a currency on their own, pushing higher even on dollar st
Palm Beach Gardens, FL (PRWEB) March 24, 2010
Everyone should be following the predictions and the changes in precious metals over the course of the year. If this is your first glance, its' easy to see there's a storm blowing through on silver and other precious metals. Silver stands to outdo itself again before the year is over. Silver has been the longstanding partner in line behind platinum but those who know to look beneath the surface of the glitter may have already realized that silver is the performer worth taking note of.
James Burbage, III, CEO of Lloyd's Asset Management, has been right on target throughout the past 14 months with his predictions for the success of silver. It looks as if he had been anymore on target over the past 14 months, somebody would have drawn a bulls eye on his back. For the fifth straight prediction in a row, Burbage has hit on silver precisely! "For more than a year now, silver has been performing in positive moves as a result of increased demand and the weakening of the US dollar. But the fact is now that gold and silver are acting as a currency on their own, pushing higher even on dollar strength. Any new pressure pushing the dollar lower could result in volatile upswings." Burbage says.
You don't have to be a financial analyst or a market guru to know that very profitable opportunities have been presented over this year and more may lie ahead as silver is predicted to continue its climb towards new highs in the coming months. Increase in the demand for silver both in luxury goods and in industrial needs, combined with a weakening US dollar are classic market indicators that make the future of investing in silver look very bullish.
Burbage is quite optimistic about the near future of silver and the track record of successful predictions that have paved the path to investment rewards thus far. "I believe silver could still hit new highs by early September we should see market trading in the range of $18 to $24," says Burbage.
With performances like this, it stands to reason that silver is no longer the silent giant and makes for a smart addition to any precious metals portfolio. As this chart (Source: barcharts.com) indicates, Burbage's predictions have landed square on the money with silver currently selling at $17.64, after a better than 36% upswing over the last three months. We may see silver do things it's never done before, providing a financial windfall for those who invest in time.
Go to: http://www.lloydsmetals.com
###