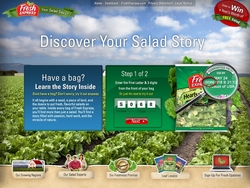 The Food Channel declared 'Food Vetting' as one of the top 10 food trends of 2010.
Cincinnati, OH (PRWEB) March 24, 2010
What do you really know about the hundreds of different foods you buy at the grocery store?
Fresh Express® wants to give you the "inside story" on what's inside their bagged salads. Their new online Leaf Locator™ tool, introduced today, tells you where the leafy greens in your particular bag of salad were grown. The Leaf Locator tool lives on a new micro-site created by Fresh Express called "Your Salad Story™" which shows how their salads are cared for from field to store. Your salad story awaits you at http://www.FreshExpress.com/salad.
Does it really matter? The Food Channel thinks so. They list "Food Sourcing/Vetting" as one of the top 10 food trends of 2010. Most packaged foods are literally wrapped in a mystery, offering little more than a view through the package and an expiration date to assure shoppers about what's inside. You can't make informed purchase decisions when you're left in the dark.
The Leaf Locator tool sheds light on more than just the salad's origin, offering information about the lettuce and spinach growing regions that make them ideal for nurturing a variety of leaves, from crispy romaine to delicate heads of butter lettuce to sweet, tender greens.
This information is revealed by entering ID codes found on Fresh Express bagged salads into the Leaf Locator tool at http://www.FreshExpress.com/salad (cole slaw and organic salads excluded). Foodies to picky eaters alike are invited to choose from 20 varieties of Fresh Express salads that are tracked by the Leaf Locator, totaling nearly 50 million bags each month.
Beyond showing you where your salad sprouted, the "Your Salad Story" micro-site lets you meet the people who made your salad, such as Master Blender Rachel Hackbarth, who pairs flavors and textures to create new salad blends, and seed expert Randall Hauptmann, who spent 10 years creating one new lettuce variety.
More Tasty Tips
In celebration of the micro-site launch, Fresh Express is hosting a sweepstakes at http://www.FreshExpress.com/salad where 30 people will win a year of free salad (based on fifty-two bags per year) – you'll be well stocked in the salad department for a long time.
Food connoisseurs and kitchen newbies alike can visit FreshExpress.com for delicious recipes, such as the classic yet easy Waldorf salad, featuring hearts of romaine, apples, pineapple, celery and walnuts. Not a Waldorf fan? Choose from a selection of healthy family meals including the popular Caesar salad, vegetarian recipes, seafood salads, and spinach salad recipes. You will even find salad dressing recipes you can make at home.
So freshen up your salad tonight, and remember – now you can know exactly where those fresh, crunchy leaves were grown.
###