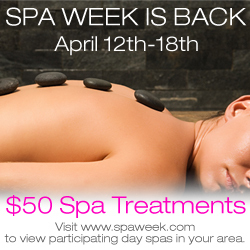 Spa Week has dashed the old myth that the spa is where the rich and famous go to be pampered; thanks to the success of the Spring and Fall Events, over 350,000 affordable spa treatments have been booked and enjoyed by average Americans since 2004
New York, NY (PRWEB) March 30, 2010
In the wake of an urgent national debate on healthcare, Americans ended the first decade of the 21st century less certain about their wellness futures than ever before. In these unsure times, Americans are increasingly turning to alternative therapies to strengthen the body and guard against illness. The health benefits of the spa have never been more relevant, and Spa Week is proud to ring in the new decade by continuing to deliver the benefits of the spa at an affordable price to millions of deserving consumers.
The 12th edition of the Spa Week Event is slated for April 12th - 18th, 2010. In total, the nationwide Spa Week Spring Event will include 30 markets and a list of participating spas will be posted on http://www.spaweek.com by mid-March. The Spring Spa Week Event will bring $50 spa treatments to consumers at over 800 spas across North America. As always, the goal is to introduce a new generation of consumers to the benefits of a healthy lifestyle by opening up the spa industry to the masses. Spa Week has spent the last 6 years turning "wellness" from a mere buzzword into a healthy reality.
Thanks to the efforts of Spa Week and their Spa Week Spring and Fall Events, the spa industry now offers health benefits to an unprecedented cross-section of the American public. Since its inception, Spa Week has afforded hundreds of thousands of people the ability to heal, strengthen, and energize at the spa.
"Spa Week has dashed the old myth that the spa is where the rich and famous go to be pampered; thanks to the success of the Spring and Fall Events, over 350,000 affordable spa treatments have been booked and enjoyed by average Americans since 2004," states Cheryl Reid, founder of Spa Week.
Never content to rest on past successes, though, each Spa Week Event brings the cutting edge of health and wellness technology to the average consumer. In addition to offering traditionally beneficial stress-busting and immune-boosting spa treatments like massage, Spa Week brings intensive, clinical therapies to consumers at the same $50 price point with hundreds of participating medi-spas all over the country.
As the healthcare crisis rages on in Washington, Spa Week's mission to educate consumers to the health benefits of the spa lifestyle is more important--and more successful--than ever. Spa Week affords everyone the ability to experience the incredible physical benefit of spa treatments and therapies.
Spa Week was created and founded by Cheryl Reid, who hails from successful careers within the luxury spa industry and publishing spheres. Spa Week is thrilled to announce it's 2010 Presenting and Title Sponsor; Dove Deodorant, Exclusive Cosmetic Sponsor; Bare Escentuals, Exclusive Wine Sponsor; Rioja, Exclusive Destination Sponsor; Canyon Ranch, Exclusive Wedding Sponsor; The Wedding Channel, Exclusive Fashion Sponsor; Fashion Week Daily, Exclusive Spa Association Partner; ISPA and National Media Sponsor; Allure Magazine.
For more information, visit http://www.spaweek.com or call Kelly at (212) 352-8098 Kelly(at)spaweekmedia(dot)com
# # #