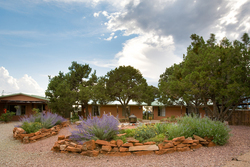 Life Healing Center is truly unique in its treatment approach and renowned for its success in helping clients achieve lasting recovery.
Santa Fe, NM (PRWEB) March 24, 2010
Life Healing Center, a comprehensive addiction, mental health and eating disorder treatment facility located in Santa Fe, New Mexico, has promoted its Director of Marketing and Admissions, Marshall Millikin, to Executive Director.
Millikin has worked in the treatment field since 1995, serving in a variety of marketing, management and administrative roles. Prior to joining Life Healing Center in 2007, he was co-owner and marketing director of a well-known experiential therapy workshop organization for families and individuals seeking to rediscover themselves and improve their relationships. Millikin also facilitated referral relations for a nationally recognized drug and alcohol treatment center located near Nashville, Tenn.
"We are very excited about this promotion and have great confidence in Marshall's ability to lead the outstanding team of professionals at Life Healing Center," said Candy Henderson-Grice, Vice President, Southern Region for CRC Health Group, parent company of Life Healing Center.
For nearly two decades, Life Healing Center has offered clients an individualized treatment experience to address issues such as trauma, PTSD, substance abuse, grief/bereavement, eating disorders, love/sex addiction, dissociative disorders and codependency. The Center's therapeutic model combines individual and group therapy and a 12 Step philosophy with holistic, mind-body-spirit elements such as fitness and meditation.
"Life Healing Center is truly unique in its treatment approach and renowned for its success in helping clients achieve lasting recovery," said Millikin. "I look forward to building on our established reputation of excellence."
Accredited by the Commission on Accreditation of Rehabilitation Facilities (CARF), the unique Life Healing Center experience can be attributed to its highly qualified staff, a specialized approach to wellness and recovery, and the serene natural environment of the foothills of New Mexico. For more information, visit http://www.life-healing.com.
Life Healing Center is a member of CRC Health Group, the most comprehensive network of specialized behavioral care services in the nation. CRC offers the largest array of personalized treatment options, allowing individuals, families and professionals to choose the most appropriate treatment setting for their behavioral, addiction, weight management and therapeutic education needs. CRC is committed to making its services widely and easily available, while maintaining a passion for delivering advanced treatment. For over two decades, CRC programs have helped individuals and families reclaim and enrich their lives.
###