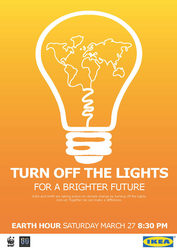 Conshohocken, PA (PRWEB) March 24, 2010
Building a future - that's in harmony with nature - is everyone's everyday challenge. Because at any given time, each one of us can either contribute to the climate change problem, or we can take steps to make a substantial positive difference.
Whether it's turning the lights out, only using re-cycle bags, biking to and from work, and/or another pro-active 'eco-friendly' choice, we all are in this climate-change challenge together.
Earth Hour is March 27, from 8:30 – 9:30 p.m. This year, select IKEA stores from around the world will pledge support of planet earth by turning off non-essential exterior and interior lighting, as well as offering a range of Earth Hour themed activities for its customers. Among the many activities, select IKEA stores will offer "solar-powered-lit" dinners, distribute free candles to customers, sponsor customer and co-worker competitions, as well as post tips on the IKEA U.S. Facebook page (Facebook.com/IKEAUSA) to highlight climate change and ways to positively impact it.
Earth Hour provides IKEA with an opportunity to help spread the message that a brighter future requires action from all sectors. And encouraging the many people to enact small changes to help reduce our carbon footprint is an everyday necessity. Here are a few good tips that we can do to support the reduction of climate change:
Everyday Tips From IKEA To Help Reduce Climate Change

Replace incandescent light bulbs w/ energy-efficient CFLs (compact fluorescent light bulbs). If every IKEA customer replaced one ordinary 60-watt bulb with a compact fluorescent light bulb (CFL), the energy saved would be enough to power a city of 1 million people.
Plant a tree to help reduce CO2 emissions.
Change to energy efficient appliances; If 1% of IKEA households replaced their 10-year-old fridge with a new, energy-efficient A class refrigerator, approximately 200 gigawatt hours of energy per year would be saved. This is enough to power 40,000 homes with electricity.
Dishwashers save water and energy. Washing dishes by hand can use up to one gallon of water for 12 place settings.
Learn to reduce waste and recycle. If 1% of IKEA customers (1.7 million people) avoided food waste and the use of plastic bottles and plastic bags, their actions would result in 212,850 fewer tons of CO2 per year. This is equivalent to taking 38,700 cars off the road.
Recycling one ton of glass avoids the use of 1.2 tons of raw material. Even after transportation and processing, recycling glass prevents nearly 317 kg of CO2 per ton of new glass.
Households throw away aluminum, paper, glass, plastic and other materials that could be reused, or which contain energy that could be recovered.
Almost one third of all energy is consumed at home to heat space and heat water. Keep all those lights and appliances turned off when not in use.
IKEA and WWF have co-operated together since 2002 towards a decreased ecological footprint by promoting responsible and sustainable use of resources. Today, the partnership includes projects on forestry, climate and sustainable cotton production on three continents.
"At IKEA, we recognise that our business will be successful only if there is a sustainable management of resources to source and produce our products," says Thomas Bergmark, Sustainability Manager for IKEA.
Last year, almost half of IKEA's retail countries participated in Earth Hour. It included activities in the stores, as well as IKEA co-worker involvement. The aim was to highlight the importance of fighting climate change. This year the aim is even higher. "Earth Hour is an opportunity to remind everyone that we - and everyone - must take steps in order to stop climate change. With 123,000 co-workers and 525 million visitors to IKEA stores annually, we can make a great impact by raising awareness of the possibilities we all have to make a change," says Thomas Bergmark.
About IKEA:
IKEA places great value on life at home. Since its 1943 founding in Sweden, IKEA has offered home furnishings and accessories of great design and quality with functional living solutions at everyday low prices. Currently there are more than 300 IKEA stores in 37 countries, including 49 in North America (11 in Canada; 37 in the US; 1 in the Dominican Republic). IKEA has six distribution centers in North America, with a manufacturing facility in Danville, VA. IKEA has been named to BusinessWeek's List of The Best Global Brands (August 7, 2006) for four consecutive years and Business Week's List of the Top 2009 Twenty Best Companies for Leadership (February 2010). Additionally, IKEA has been listed on Working Mother magazine's annual list of the "100 Best Companies for Working Mothers" for four consecutive years. IKEA was also listed in March 2007, on Fast Company's Fast 50, for its environmentally responsible products, as well as for five consecutive years in Training magazine's annual list of top companies that excel at human capital development. TIME Magazine (May 2009) listed IKEA as one of the top 8 most global eco conscious companies. IKEA incorporates environmentally friendly efforts into day-to-day business and continuously supports initiatives that benefit causes such as children and the environment including UNICEF, Save the Children and American Forests. To visit the IKEA Web site, please go to http://www.IKEA-usa.com and also learn more about IKEA environmental and social responsibility actions and programs. Also visit http://www.Facebook.com/IKEAUSA.
###