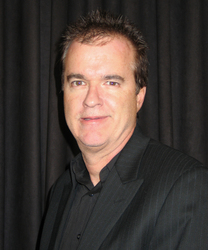 "I am pleased and very excited that Mr. Welch has accepted our Board of Directors offer to formally move into the role of President of AirPlay Direct," states CEO, Robert Weingartz.
Nashville, TN (PRWEB) March 24, 2010
Robert Weingartz, CEO of AirPlay Direct, formally announces the promotion of Scott Welch from V.P. Special Projects to the position of President of the global digital-to-radio music delivery platform.
As President, Welch oversees all day-to-day operations of the company, including Artist and Label member relations, existing and new business development, strategic planning and investor relations.
"I am pleased and very excited that Mr. Welch has accepted our Board of Directors offer to formally move into the role of President of AirPlay Direct," states CEO, Robert Weingartz. "Scott is a dedicated and accomplished music business professional and has already had a tremendous impact within the company and on the industry as a whole. I look forward with great anticipation to the growth, accomplishments and successes that we are sure to enjoy with Scott at the helm."
Welch is also the president of Nashville-based Scott Welch Management, Inc. He has managed the careers and development of multi-platinum recording artists such as Alanis Morissette, LeAnn Rimes, Steve Perry, Paula Abdul, Collective Soul, C&C Music Factory, and others. These artists have sold a combined total of over 75 million albums worldwide. Under Welch's direction, Alanis Morrisette's debut album Jagged Little Pill was the largest selling debut album in history, with worldwide sales in excess of 32 million records and the winner of seven GRAMMY® awards, plus numerous critic and sales awards globally.
Welch currently manages award-winning country recording artist Mark Wills, Johnny Cooper, No Justice and Allison Kaplan. Scott Welch Management also consults companies including Harrah's Casino, Hard Rock, Nikki Beach Resorts and American Media Group concerning their entertainment relationships.
Welch was involved with the marketing launch and the IPO of MP3.com, which was one of the first digital music websites; the launch and development of Stubhub, an online ticketing company purchased by Ebay for $320 million, and ChromaGen, a patented, FDA-approved eye lens that corrects reading disorders and color blindness. He is also a co-founder of Highnote, a real time web search company.
Until 2005, Welch was a partner in Mosaic Media Group, a multi-media company based in Los Angeles and Nashville which managed film, television, and music artists. While there, he worked in the careers of Green Day, Jim Carrey, Ellen DeGeneres, Vince Vaughn, Wil Ferrell and a stable of over 40 clients. Mosaic also owned Dick Clark Productions and the music publishing catalogs of such artists as ZZ TOP and Aerosmith.
In addition to managing and consulting, Welch was also the executive producer of the City of Angels movie soundtrack, the largest selling soundtrack album of 1998, with sales of over eight million copies, the winner three GRAMMY® Awards and yielding #1 singles for Alanis Morissette and The Goo Goo Dolls.
Welch has a BA from the University of California at Sacramento in communications. He is actively involved with the Children's Miracle Network and is on the Board of Directors for Musicians On Call, which is a nonprofit organization that brings live and recorded music to the bedsides of patients in healthcare facilities. He currently resides in Nashville with his wife Desaree and their two children.
Reach out to congratulate Welch on his appointment at scott(at)airplaydirect(dot)com.
About AirPlay Direct:
AirPlay Direct is a global digital music delivery system servicing radio and the entertainment industry with downloadable content from some of the biggest names in music, alongside rising independent artists. AirPlay Direct's web-based artist marketing, promotion, education, and advocacy platform allows artists, record labels, and music publishers to securely deliver broadcast-quality music and digital press kits to industry professionals worldwide. Our system allows media programmers and film/TV music supervisors to connect to new music, create music calls, browse top downloaded artists, and immediately download music and related artist information. AirPlay Direct recently debuted their monthly digital/interactive publication, the Direct Buzz.
For more information about AirPlay Direct please visit http://www.AirPlayDirect.com
For more information about the Direct Buzz go to http://www.theDirectBuzz.com
Contact:
Clif Doyal
Corporate Publicist, AirPlay Direct
Contribution writer, the Direct Buzz
615.319.1863
http://www.AirPlayDirect.com
http://www.theDirectBuzz.com
###