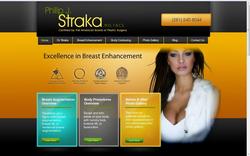 Houston, TX (Vocus) March 30, 2010
A prominent plastic surgeon has joined the Web 2.0 revolution by creating a Facebook page and Twitter account for his Houston tummy tuck and breast surgery practice. While communication and social networking are now seeing massive change with internet sites such as Facebook and Twitter, Dr. Philip Straka says he quickly realized that establishing a presence on these sites could bring to his patients, both new and old, valuable information about plastic surgery procedures and how he can help people achieve their goals.
Dr. Straka and his staff use Facebook to post regular updates that include links to new blog entries and other pages of interest on his practice's state-of-the-art website. They also use Facebook's multimedia capabilities to post before-and-after photos to give patients an idea of the results that Dr. Straka is able to achieve for his patients at his Houston liposuction and plastic surgery practice.
Dr. Straka believes that Facebook's most important feature might be its interactivity and the platform it provides patients to join directly into the dialogue about plastic surgery treatments. Some patients have already started to use the comments feature to write posts about their experiences at Dr. Straka's practice. These candid testimonials provide those who are considering cosmetic surgery with insights on what they can expect directly from former patients themselves.
Women interested in breast augmentation in Houston will find several resources tailored just for them on Facebook, including a link to frequently asked questions about this popular procedure. Information about Dr. Straka is also provided, as well as the practice's phone number and street address.
Patients who enjoy getting regular updates of the day on Twitter can now follow Dr. Straka's practice on the popular microblogging site. Recent updates include links to information on breast implants and breast augmentation revision surgery.
By joining both Facebook and Twitter, Dr. Straka hopes to provide his patients with up-to-the minute practice updates and information on the latest procedures for breast enhancement and body contouring. He encourages patients to join his Facebook family and follow his updates on Twitter to stay connected with his practice and remain abreast of new procedures and techniques.
About Dr. Philip Straka
Houston plastic surgeon Philip Straka, MD graduated from the prestigious Northwestern University Medical School in Chicago. After completing his general and plastic surgery residencies at Ohio State University, he established his practice with the goal of providing state-of-the-art care to those interested in enhancing their appearance.
Dr. Philip Straka is board-certified by the American Board of Plastic Surgery and he is a Fellow of the American College of Surgeons. He also maintains memberships in the American Society for Aesthetic Plastic Surgery and the American Society of Plastic Surgeons.
Dr. Straka served as a principal investigator in studies commissioned by the Food and Drug Administration to determine the safety of silicone gel breast implants.
For more information, patients can contact Dr. Straka's practice at 9810 FM 1960 East, Suite 165, Houston, Texas, 77338 - (281)-540-8044. http://www.drstraka.com.
###