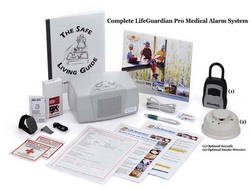 Oceanside, CA (PRWEB) March 25, 2010
LifeGuardian Technologies LLC, distributor of life saving emergency medical alert devices, announced today the launch of its Authorized Provider Program for medical professionals and in-home caregivers. The Authorized Provider Program is open to medical and ancillary professionals who serve and support the nation's growing senior population.
There are more than 35.9 million aged 65 and over and injury and illness among this population no longer dictate institutionalized care. LifeGuardian supports in home safety for patients that provide peace of mind to seniors and their families.
According to the Bureau of Labor Statistics, over the period of 2008-2018, ten of the 20 fastest growing occupations are healthcare related, http://www.bls.gov/oco/cg/cgs035.htm) with home healthcare expected to grow by 46%. With older age groups growing faster than the total population during this period, and cost and lifestyle preference driving more out-of-hospital care there will be an even greater demand for services and support for in-home care.
"LifeGuardian is committed to ensuring that in-home care is not only a choice but a safe choice for seniors or anyone who has a chronic injury or illness. The Authorized Provider Program was developed in response to the large network of providers who support this population," said Program Director, Teresa Miller.
The Authorized Provider Program is open to all medical offices, pharmacies, medical equipment suppliers, independent health-care providers and non-medical in-home care providers, Program participants can order LifeGuardian medical alarm products such as the top rated LifeGuardianPro™ Medical Alarm System, the SafeGuardian™ GPS Safety Cell Phone and MedGuardian™ Automated Medication Dispenser for their clients.
LifeGuardian Technologies handles the billing, shipping and customer service. The program pays lifetime residuals to program participants allowing them to offer value added services and while gaining additional monthly revenue. There is no charge to enroll and no long term contract requirement.
"As the United States seeks to reform and improve health care, home health care becomes an even more important option. Providers will be in need of resources and support as they serve this growing population and we are committed to do that," commented Miller.
To learn more about LifeGuardian Authorized Provider Program visit http://www.lifeguardianproviders.com.
About LifeGuardian
LifeGuardian Technologies, LLC is a wholly-owned subsidiary of Clayton Communications, Inc. based in Las Vegas, NV and with offices in San Diego, CA. Clayton Communications, Inc. specializes in the distribution of wireless emergency medical alarms and GPS enabled life safety systems.
###