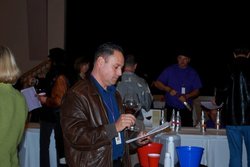 It's not that Pinot Noir is hard to make, it's that we make it hard. The problem is that Pinot Noir is often planted in the wrong place.
Santa Cruz, CA (PRWEB) March 24, 2010
The Pinot Noir Summit is a Pinot Noir judging unlike any other, led by Barbara Drady, chief wine evangelist and CEO of Affairs of the Vine. Drady says of the event, "People are passionate about Pinot Noir in a way that exceeds any other varietal. Sometimes called Pinotphiles or just plain crazy, lovers of Pinot are driven to discover and experience the ultimate wine."
Attendees blind-tasted 40 top-rated Pinot Noirs, becoming "wine judges for the day," with their palates then later pitted against the results of a panel of wine experts. Wines tasted by attendees were already deemed as winners by the professional panel, scoring 90-points or above. All results were then defined by gender.
The event was a sterling day for Vine Hill Winery — with two of its wines garnering high scores, and two of its most important members getting a chance to share some of their personable insight to lovers of the enigmatic grape called Pinot Noir.
Wines Score Imposing 92-Points
Both the Vine Hill 2007 Pinot Noir, Santa Cruz Mountains, and the Cumbre of Vine Hill 2007 Barrel 31, Santa Cruz Mountains wines scored stellar 92-points across-the-board, with women's and men's judging groups considered individually.
The Vine Hill 2007 Pinot Noir, Santa Cruz Mountains, which retails for $30, elicited comments from women such as: "Spicy cranberry, maraschino cherries, cinnamon and vanilla aromas, lovely, vibrant . . . Perfect balance of fruit to oak . . . Silky texture." And, men commented with: "A fascinating wine — rich and complex . . . Dark cherry, cola and vanilla aromas open to a big ripe palate . . . Cherry, cooked red plum, soy and nutmeg flavors . . . Long and smooth finish."
The Cumbre of Vine Hill 2007 Barrel 31 Pinot Noir, Santa Cruz Mountains, is a limited release wine that drew equally illuminating responses. Of the women judges, the wine was: "Deep purple-red in color . . . Blueberry and plum aromas with just a dab of sweet cherry . . . Brambly on the front palate, with smoky tones enhancing the plum and raspberry flavors . . . A very playful and enjoyable wine!" The male gender, offered similar commentary, with notes like: "Medium dark ruby in color . . . The nose emits black cherry, sweet vanilla and brown baking spices with wet leaf notes in the background . . . Flavors are complex with sour cherry, cranberry and forest floor accents . . . Nice acidity with dry wood tannins on the cocoa and berry finish." This Cumbre Pinot retails for $59, and is available exclusively at the winery.
Vine Hill's Wine "Shepherds" Reveal Pinot Noir Backstories
After the attendee blind tasting and, prior to a grand tasting at the Pinot Noir Summit, workshops were presented about all things Pinot Noir, where Sal Godinez, winemaker, and Rachel Ormes, vineyard manager at Vine Hill each shared their own insights on the making of Pinot Noir.
Sal Godinez participated as an invited panelist in "A Global Perspective on Pinot Noir," which compared three different Pinot Noir winegrowing regions — Russian River Valley, New Zealand and Santa Cruz Mountains. Godinez, an affable and approachable winemaker who has been making wine for 25 years —18 of which have been dedicated predominantly to Pinot Noir — and who has a clear focus on how to make excellent Pinot Noir, addressed how he finds perfection in the craft. He discussed the "Pyramid of Consistency," the relationship between California's unique Pinot-friendly micro-climates, clones and rootstock. The result being wine of quality that is consistent from year-to-year. Godinez said, "It's not that Pinot Noir is hard to make, it's that we make it hard. The problem is that Pinot Noir is often planted in the wrong place. If you plant the vines in the right spot and adhere to conditions of 'consistency,' you're going to make good wine because you'll be assured of good grapes every year. That's why I always look for grapes that have a perfect balance — chemistry and flavors at just the right stage."
Rachel Ormes, an ex-patriot Brit who left the cooler climes of the U.K. to study agroecology at the University of California Santa Cruz, has come to embrace the Monterey Bay area's agreeable climate and flourish in California's viticultural 'culture,' joined as an invitee in the workshop entitled, "Sustainable? Organic? Does it matter?" At that workshop, moderated by Don Winkler, editor of The International Wine Review, Ormes presented her insightful perspective on the differences, complexities and distinctions between organic farming, organic wine and sustainability. Coming from a background of loving plants and growing food as a pastime, Ormes emphasized that, "Organic agriculture is all about working in harmony with nature — bringing all the factors into balance." Ormes clarified some of the often misunderstood definitions that prevail in the 'greening of vineyards' by pointing out that 100% organic wine, "cannot have any sulfites added in the winemaking process, where, in contrast, 100% biodynamic wine can have up to 100 parts per million of sulfites added and still be labeled as 'biodynamic.'"
About Vine Hill Winery
Vine Hill Winery is located in the Santa Cruz Mountains at 2300 Jarvis Road, Santa Cruz, California 95065, and accessed from the City of Santa Cruz via Branciforte Road, and from Los Gatos via Highway 17 and Vine Hill Road. The tasting room is open to the public on the third weekend of each month from noon to 5pm and for special events and selected holidays. Tastings, winery and vineyard tours by appointment for groups of 10 or more are also available. For more information and directions, or to purchase wine directly from the winery, please visit: vinehillwinery.com; email: wine(at)vinehillwinery(dot)com; or call: 831-427-0436.
###