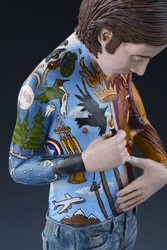 At CraftSummer they feed our souls, as well as expose us to the latest in art materials, technology and the top artist/instructor - all within a nurturing community environment.
Oxford, OH (PRWEB) March 25, 2010
For 34 summers, artists, crafters, educators and the art curious have gathered on the campus of Miami University to participate in CraftSummer, a series of hands-on craft and art-related workshops taught by local, regional and nationally-known artists, considered the best in their particular discipline. CraftSummer's small class sizes and high caliber of instruction is uniquely designed to strengthen creativity, develop personal expression and provide a sense of community among participants of all skill levels who are interested in art, design and crafts. 30 different classes will be offered from June 11 – July 9, 2010, as either a five-day or weekend workshop, which can be taken for credit or non-credit. Registration is now open. A downloadable registration form can be found at the website, or contact Janis Lackey, Workshop Coordinator, (513) 529-7395, craftsummer(at)muohio(dot)edu.
"CraftSummer is designed so every student finds success, and as a result each year we have stories to tell about how the experience has been life-changing," says Ron Stevens, CraftSummer director for the past ten years. "Students' perceived limitations literally go away, and it's very exciting to find ways to help that happen for people. I think the personal growth experienced by participants and instructors alike is a result of our communal atmosphere - people with the same interests, but different approaches working together and having fun."
CraftSummer was created by former Dean of the School of Fine Arts Dr. Charles Spohn, who recognized the need to offer a more imaginative summer school curriculum directed by the Miami University Department of Art. After researching the strengths of similar programs at Penland in North Carolina and Arrowmont in Gatlinburg, Tennessee, CraftSummer opened in 1976 with thirteen workshops in ceramics, metals and fibers.
"The instructor guided me from an awkward beginner to a student willing to try new things."
In 2010, twenty-six artist-instructors will teach thirty different courses focused in the disciplines of ceramics, metals, digital photography, glass, painting & drawing, fibers, wood, books & paper, basketry and sculpture. Most courses are suited for students at all skill levels – beginner, intermediate and advanced - and some are designed for participants at a particular level of experience in a given medium.
Classes include Block Printing w/Ceramics, Bronze Casting, Narrative Figures in Clay, Creative Pencil Portraits, Woodworking Unplugged, Making and Using iMovies, Beyond Raku, Faces & Places: An Art Quilt, Beginning Glass Blowing plus twenty more. A complete list of class descriptions, instructors' biographies, and the class schedule is available at the web site.
Described by former students as "outstanding", "diverse", "the highest quality of classes", "exceptional", "wonderful", and "more than met my expectations" – CraftSummer has been instrumental in building skills and breaking creative boundaries for K-12 art educators.
"I have taken some pretty risky classes at CraftSummer challenging myself with raku ceramics, glass-blowing and stop-motion animation," says Laura Tawil, a high school art teacher in Cleveland and Co-Director of the Northeast region of the Ohio Art Education Association (OAEA). "It is vital for an art teacher to experience the fears, apprehensions and hesitations that our very own students may feel when they first set their hands on a spinning lump of clay or feel the heat from an open copper enameling kiln door. At CraftSummer they feed our souls, as well as expose us to the latest in art materials, technology and the top artist/instructor - all within a nurturing community environment."
Miami University offers a scholarship to eligible Ohio K-12 teachers, which provides a 50% discount on CraftSummer courses. For complete information and an application, visit the "TEAM" website.
"CraftSummer completely satisfies yet leaves me hungry for more."
CraftSummer attracts students of all ages and abilities. The program is open to anyone at least eighteen years of age with a high school diploma or its equivalent. "It's particularly gratifying to work with retirees and people who because of family obligations or their careers have put off trying something creative," comments Stevens. "We've received gratifying comments like 'I've wanted to do this sort of thing all my life!' and 'Words cannot describe what this class meant to me'."
For a CraftSummer brochure, contact the CraftSummer office at 513-529-7395 or email craftsummer(at)muohio(dot)edu. A registration form can be downloaded at http://www.craftsummer.org.
###