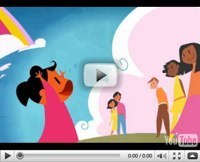 AAJC is pleased to be partnering with Engage Her on its 2010 census education campaign.
Berkeley, CA (Vocus) March 24, 2010
Engage Her, a national organization that educates and activates multicultural communities for leadership roles and civic engagement by deploying digital technologies, today released a 30-second, animated video about the 2010 Census for viral distribution online and on mobile devices. The video targets multicultural communities, particularly women, youth, and the economically disadvantaged. Later this week, the video will be translated and released into 11 languages: Spanish, Mandarin, Cantonese, Vietnamese, Korean, Hmong, Laotian, Tagalog, Hindi, Samoan, and Tongan.
The census media campaign is the first to integrate viral video, text messaging, social media, and PSAs. Using digital distribution technologies, Engage Her's video partners can collect information and provide list-building capabilities, something not possible with traditional TV, print , and radio media outreach.
The video's objective is to connect the census to key issues that multicultural and immigrant populations care most about: jobs, healthcare, and education. The video emphasizes that the census program provides funds to people and their communities for critical services.
The video – which can be seen on http://www.engageher.org -- opens with an animated young girl jumping up and down raising her hand in an attempt to get attention. She says, "Can anyone hear me?" When she gets pulled back onto a box labeled Census 2010, a voice says, "Now that we can hear you. You need an education." She then receives schoolbooks. The goal is to get Engage Her's target communities to complete the census by April 1 while also being educated about why they should participate in the census.
Engage Her is partnering with a diverse group of community and social advocacy groups, including the Asian American Justice Center, the San Francisco Office of Civic Engagement & Immigrant Affairs, the National Association of Asian American Professionals, Asian American Pacific Islanders in Philanthropy, and AT&T, to increase its outreach to those normally underrepresented in the census.
"AAJC is pleased to be partnering with Engage Her on its 2010 census education campaign." said Karen K. Narasaki, president and executive director of the Asian American Justice Center. "It is a creative partnership that will help to ensure that hard-to-reach minority and immigrant communities are not undercounted."
Engage Her
Engage Her (http://www.engageher.org) was founded in 2008 by Mable Yee, a social entrepreneur, former CEO and founder of three high-tech companies, and a longtime activist in the Asian American and women's tech communities. In 2009 Engage Her hosted its inaugural Multicultural Women's Leadership Conference at UC Berkeley, which was attended by 350 women featuring activist icons Gloria Steinem, Dolores Huerta, Aileen Hernandez, and Yuri Kochiyama. Engage Her will host its first Multicultural Middle School Girls' Leadership Conference March 27-28 at the Julia Morgan School for Girls in Oakland, CA. Yee also produced the documentary, Engage Her: Getting Minority Women To Lead and Vote, and most recently received the Woman of the Year award for California Assembly District 14, represented by Assemblymember Nancy Skinner.
For more information, contact Sylvia Paull at (510) 388-8932 or 1engageher(at)gmail(dot)com.
###