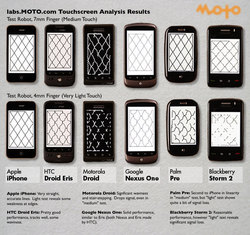 Las Vegas, NV (PRWEB) March 24, 2010
MOTO Development Group today unveiled a video and photographs of a second touchscreen performance test between the Google Nexus One, the Apple iPhone, the Motorola Droid, the HTC Verizon Droid Eris, the Blackberry Storm 2, and the Palm Pre.
The video and photos of MOTO's "Robot vs. Touchscreen" test are available here:
http://labs.moto.com/robot-touchscreen-analysis
THE FIRST TEST
At CES this past January, MOTO Labs released a story and video explaining a simple "do-it-yourself" technique that anyone can use to evaluate the resolution and accuracy of touchscreen devices. To conduct the test, consumers would download a basic drawing program and draw diagonal lines drawn across the screen. Even with a human finger drawing a mostly straight line, patterns of waviness and stair-stepping emerge – thus revealing weaknesses in touch sensor integration, resolution, or .
THE NAYSAYERS
After we published our first comparison of four touchscreen smartphones, a few critics found fault with our DIY testing technique. Many of of these comments centered around the idea that our human-finger methodology is prone to inconsistency, due to variables in finger pressure, line-straightness, or tracing speed.
MOTO AND THE ROBOT
To satisfy the critics, MOTO Labs decided to give them exactly what they asked for, and wrote a script for MOTO's laboratory robot to re-run the comparison. The robot test has the advantage of running more slowly and more consistently than a human finger, thus revealing touchscreen weaknesses more accurately.
NEW CONTENDERS
Many readers also wanted the test to be run on the Palm Pre and the Blackberry Storm2, so those phones were added to the lineup for the Robot Touchscreen Analysis test.
WHAT THE LINES INDICATE
On a quality touchscreen, people can draw clean straight lines, even while going very slowly. However, on inferior touchscreens, it's basically impossible to draw straight lines. Instead, the lines look jagged, stair-stepped or zig-zag, no matter how slowly you go. Poor results can be from a sensor size being too big, a touch-sampling rate being too low, and/or the algorithms that convert gestures into images are too non-linear to faithfully represent user inputs.
A good touchscreen device will produce linear output regardless of whether you're using the full pad of your finger, or just the edge. With very light pressure, artifacts will increase significantly, showing which device is really the best with a weak signal. You can see the comparative results of "medium" and "light" pressure in the photo result found here: http://labs.moto.com/robot-touchscreen-analysis
A good touchscreen device will produce linear output regardless of whether you're using the full pad of your finger, or just the dry corner of your cuticle. This is important because quick keyboard use and light flicks on the screen really push the limits of the touch panel's ability to sense.
THE NUT OF THE MATTER
Small differences in touchscreen sensitivity actually reveal exponential difference in performance. Typing on an on-screen keyboard in on a device with a less sensitive touchscreen system leads to user frustration.
AND THE WINNER IS...
The iPhone! Again! The iPhone's touch sensor showed the most linear tracking with the least amount of stair-stepping.
In the "medium touch" test, newcomer Palm Pre did very well, second to the iPhone in linearity. But the Pre showed significant signal loss in the "very light touch" test.
The Google Nexus One was a close third in "medium touch," but performed much better than the Pre in the "very light touch" test, showing compromises in linearity but not in signal loss.
Newcomer Blackberry Storm 2 showed reasonable performance in the "medium touch" test, but showed extreme signal loss in the "very light touch" test – with the Storm sensor dropping out even more than the previous test's least sensitive touchscreen, the Motorola Droid.
HUMAN V. ROBOT
Finally, robot "finger" test results were pitted against January's human finger results – and not surprisingly, the simple DIY finger-test correlates quite closely with the more formal results of the ultra-precise, ultra-consistent robot in MOTO's laboratories. Images here: http://labs.moto.com/robot-touchscreen-analysis
UNDERSTANDING THE RESULTS
Touchscreen performance variation occurs because there is no out-of-the-box solution for manufacturers that hope to install multi-touch screens in consumer electronic devices.
To get it right, gadget-makers have to assemble a variety of critical elements — screen hardware, software algorithms, sensor tuning, and user-interface design, to name but a few — and then refine each component of the stack to deliver the best touchscreen experience possible. It's a complex and laborious process that requires extremely close collaboration between multidisciplinary teams, as well as a high-level vision for a quality end-user experience.
AN INDUSTRY PREDICTION
In the long run, MOTO does not don't expect this high degree of touchscreen variation between handset manufacturers to continue in such dramatic form.
Right now, capacitive touchscreens are a relatively new feature to appear in consumer electronics products. Creating a seamless touchscreen experience is hard work that requires a high level of commitment to technology integration and interdisciplinary teamwork. Over time more brand-name manufacturers will acquire the expertise required to deliver excellent touchscreen products.
For example, many of the solutions in these phones (other than the iPhone) are all last-generation silicon and touch panel components – the other touch screen makers are hard at work perfecting their new solutions, and they may just leapfrog Apple in some areas when they arrive on the market over the next year.
###