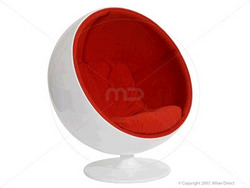 The United Kingdom has a reputation for style, elegance and fine taste, so we believe it's the perfect market for Milan Direct to enter.
(PRWEB) March 25, 2010
Milan Direct, Australia's number one online store for modern retro furniture, has recently announced it is expanding its operations into the United Kingdom.
The opening of its Bedfordshire warehouse signals a new era in the young company's story. Beginning in 2006 with just two staff, today the company employees over 10 people and to date has assisted more than 80,000 Australians in furnishing their homes and offices.
Dean Ramler, Milan Direct founder and managing director said: "We are delighted to announce Milan Direct's plans for the UK and are very excited about capitalising on the Australian team's expertise to establish ourselves as a serious player in the UK furniture market.
"The United Kingdom has a reputation for style, elegance and fine taste, so we believe it's the perfect market for Milan Direct to enter.
"The mission at Milan direct is simple – provide our customers champagne tastes at beer prices. Our Australian customers love it and we're confident our UK cousins will appreciate the same. Designer lifestyle – Live it, that's our motto. Our classic designer pieces combine quality, style and affordability – an attractive combination in anyone's book."
Milan Direct's UK range will include all its Australian bestsellers, classic pieces such as; Eames office chairs, Barcelona chairs, Nelson replica clocks, Noguchi coffee tables, plus many more popular items from its extensive office furniture and art deco furniture range.
"We have been considering such an expansion for some time and believe now the timing is right. We have chosen the right people with the necessary experience and knowledge of the furniture business to create the perfect infrastructure for Milan Direct UK.
"We plan to replicate our Australian success story," Mr Ramler said.
And Milan Direct is indeed an Australian success story. Based on a revolutionary concept and business model, Milan Direct deals directly with overseas manufacturers, in the process cutting many links in the supply chain. By eliminating what are often significant 'middle men' costs, real savings can be passed onto consumers. It's a model that works, with thousands of satisfied Australian customers and over 300,000 pieces of designer furniture sold to date; Milan Direct continues to go from strength to strength.
"We are indeed excited about our UK expansion. It is an important chapter in the Milan Direct story and one we are sure consumers in the UK will embrace. We look forward to serving a whole new cliental and watching the Milan Direct range grow and evolve in keeping with the tastes of UK consumers.
"But of course our ultimate goal at Milan Direct has been, and always will be, to provide maximum value for our customers, now, whether they live in Australia or the United Kingdom," said Mr Ramler.
All products in the Milan Direct range are premium-end reproductions of modern-retro classics. The ever growing and evolving product range is selected based on functionality, purity of form and aesthetic beauty. Milan Direct is Australia's number one online store for replica furniture and high quality reproduction furniture.
To find out more about the Milan Direct business concept, its furniture range or to discover more about the most influential designers of the 20th century and their pieces visit http://www.milandirect.co.uk.
###