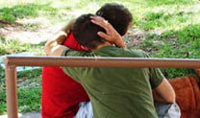 step outside of their box
New Milford (Vocus) March 25, 2010
Just added to Spirit Journeys' calendar is a gay tantra weekend titled Tantric Tribes. This workshop will be held at the Kirkridge Retreat Center September 10-12, 2010. Spirit Journeys also has a Tantric Tribes weekend at the Bend of Ivy Lodge near Asheville, NC in June. During these weekends, participants will learn the basics of yoga and breathing practices. Using a step by step, practical approach, integration of the essential elements of tantric sexual techniques will also be taught. Some of the benefits of learning to channel erotic energy are unlocking creativity, transformation of sexual experiences and significantly altering many other aspects of life.
Participants will work with themselves, with the group as a whole, and with randomly chosen partners. During experiential work, participants conduct personal (and often playful) "experiments" to observe and gain new insights and methods to awaken a deeply satisfying, revolutionary approach to sexual practices. There will also be plenty of "down time" just to relax and connect with the others in the group.
What is Tantra?
Tantra is the name for a collection of beliefs and practices that aim to bring about unity in the person and in the couple through the exchanges and weaving of energy flows. It is a Sanskrit word which roughly means to expand or weave or spread and which in practice refers to the process experienced by the partners. A certain amount of increased self awareness also results from tantra and can lead to a deeper understanding between the couple.
Tantra is a system of personal and spiritual development. It is not just about prolonging orgasms or becoming more intimate with your partner although these are common benefits. Contrary to most spiritual traditions Tantra views sexual energy and lust as an integral part of human spirituality and a path to enlightenment. It also involves recognizing darker parts of the personality and integrating those and full sexual potential into the being. The aim of Tantra is to expand boundaries, accept ourselves and dispel guilt or fear and learn about our mystical selves.
The theories which are called tantra come from all over Asia and are built on ancient traditions from Hinduism and Buddhism. Therefore practices can vary a lot between different teachers.
Some traditions of tantra assert that the practice is not possible for same sex couples because the opposing male and female energies are needed. However there are several schools which include gay tantra. Techniques which use the theories of Kundalini energy flows are possible for same sex couples. This is because in Kundalini the rising energy flows are the same in all people regardless of sexual preference or gender. Some traditions use a lot of visualization in their processes. In these cases partners can imagine themselves as being of different sexes when guiding the flows of energy. Sexual preference is viewed as a personality trait in Buddhism and is therefore unimportant in the context of tantra.
One of the more popular types of gay tantra is a relatively new system called SkyDancer Tantra. It is based on an ancient system probably from Tibet but was developed by Margot Anand Naslednikoy in the Eighties. It is based on the concept of love being similar to a dance in the sky. The name comes from a colleague of a Buddha who was called Big Sky Dancer. Together they created Tantric Buddhism, whose followers were apparently passionate and entirely devoted to their spiritual work.
Most tantric practice involves meditation. Breathing is a vital part of the process with techniques involving alternating breaths between partners. Visualization is another common method which has many aspects. It is possible to visualize deities or other magical powers or processes between the two bodies such as movement of energy. Yoga is used to maintain positions and for its meditative properties and focus on breathing.
Tantric massage is another way of enjoying gay tantra. The aim of this type of massage is to build sexual energy through touch and pressure and then use that to release energy blockages in the body. It does not have to lead to climax. There are a range of methods of gay tantra all with the aim of developing the individual through strengthening partnership bonds, self awareness and spiritual growth. The popularity of gay tantra is growing and this is evidenced in the increased number of gay tantra retreats being offered.
Spirit Journeys Mission:
To create opportunities for participants to grow mentally, emotionally and spiritually; to create environments where they can feel safe enough to "step outside of their box" and move towards living a freer, more joyous life.
For additional information on Spirit Journeys' special gay vacations and gay retreats, contact Howie Holben at (800) 754-1875 or visit http://www.SpiritJourneys.com.
###