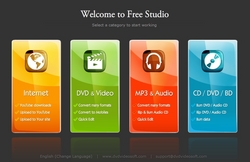 Chelsea, MA (PRWEB) March 26, 2010 –
DVDVideoSoft, well-known company in the IT world as novator and experimentator, is constanly trying to improve its programs and make them perfect. Today the company announces new release of YouTube downloading programs. Now all the videos which were not downloadable previously will be easily downloaded.
At present DVDVideoSoft offers 23 free applications for audio and video processing in multimedia market. In this package of useful programs, YouTube applications occupy a special honoured position, thus introduction of new updates is very important.
The set of YouTube downloading programs features the following programs: Free YouTube Download, Free YouTube to MP3 Converter, Free YouTube to iPhone Converter, Free YouTube to iPod Converter.
All the programs support downloading of separate YouTube videos, YouTube playlists, video responses, all videos from a channel as well as complete Showlists.
At the same time every program features certain peculiarities. For example, with Free YouTube Download it is possible to download videos of any available quality for playback in any PC, while Free YouTube to MP3 Converter allows to burn a CD directly after extracting music in MP3 format from a YouTube video. It is easy to guess that Free YouTube to iPhone Converter and Free YouTube to iPod Converter are designed specially for iPod and iPhone users, but these makes do not abridge the programs' functions. The programs also convert videos to formats compatible with BlackBerry, PSP and other phone brands (MP4 mobile format).
All the programs are very simple to use and sincere in their functionality. On opening a program it is obvious what is necessary to do in order to get a desired result: insert a YouTube link, choose output file options and start conversion process. Any user can easily perform these actions and what is more important – every user gets these powerful programs for free.
Updated versions of YouTube programs as well as current versions of all other DVDVideoSoft programs are available for direct download from company's website http://www.dvdvideosoft.com.
About the Company:
DVDVideoSoft (http://www.dvdvideosoft.com) is an independent developer of multimedia software programs for video and audio processing which are free and, which is more important, simple and very useful. The company was founded at the end of 2006. Today DVDVideoSoft offers 23 free applications which run under XP, Vista and Windows 7, writes step-by-step instructions on how to solve different multimedia tasks with the help of its programs and, if necessary, provides free comprehensive support in English, German, French, Spanish, Russian, Chinese and Japanese.
Media Contact:
Alex Wang
+1 347-410-9450
###